Operating tips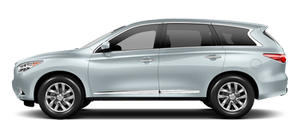 ● When the shift selector is shifted to the R (Reverse) position, the display screen automatically changes to the RearView Monitor mode. However, the radio can be heard.
● When the view is switched, the display images on the screen may be displayed in some delay.
● When the temperature is extremely high or low, the screen may not clearly display objects.
This is not a malfunction.
● When strong light is directly coming on the camera, objects may not be displayed clearly. This is not a malfunction.
● Vertical lines may be seen in objects on the screen. This is due to strong reflected light from the bumper. This is not a malfunction.
● The screen may flicker under fluorescent light. This is not a malfunction.
● The colors of objects on the RearView Monitor may differ somewhat from the actual color of objects. This is not a malfunction.
● Objects on the monitor may not be clear in a dark environment. This is not a malfunction.
● If dirt, rain or snow accumulates on the camera, the RearView Monitor may not display objects clearly. Clean the camera.
● Do not use alcohol, benzine or thinner to clean the camera. This will cause discoloration.
To clean the camera, wipe with a cloth dampened with diluted mild cleaning agent and then wipe with a dry cloth.
● Do not damage the camera as the monitor screen may be adversely affected.
● Do not use wax on the camera lens. Wipe off any wax with a clean cloth that has been dampened with a mild detergent diluted with water.
See also:
Lights
1. Map light 2. Parking light 3. Front side marker light 4. Front turn signal light 5. Fog light 6. Headlight (high-beam, low-beam) 7. Puddle light 8. Step light 9. Side turn signal ...
Recording CDs
1. Operate the audio system to play a CD. For the details of playing CDs, see "Compact Disc (CD) player operation". 2. Select the "Start REC" or "REC" key. NOTE: • The system starts playing and ...
Treadwear
The treadwear grade is a comparative rating based on the wear rate of the tire when tested under controlled conditions on a specified government test course. For example, a tire graded 150 wou ...