RearView Monitor (if so equipped)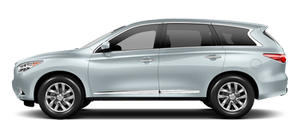 When the shift selector is shifted into the R (Reverse) position, the monitor display shows a rearward view from the vehicle.
The system is designed as an aid to the driver in situations such as slot parking or parallel parking.
WARNING
● The rear view camera is a convenience but it is not a substitute to check behind the vehicle when backing up.
● The driver is always responsible for safety during parking and other maneuvers.
● Objects viewed in the RearView Monitor differ from actual distance because a wide-angle lens is used.
● Make sure that the liftgate is securely closed when backing up.
● Underneath the bumper and the corner areas of the bumper cannot be viewed on the RearView Monitor because of its monitoring range limitation.
● Do not put anything on the rear view camera. The rear view camera is installed above the license plate.
● When washing the vehicle with highpressure water, be sure not to spray it around the camera. Otherwise, water may enter the camera unit causing water condensation on the lens, a malfunction, fire or an electric shock.
● Do not strike the camera. It is a precision instrument. Otherwise, it may malfunction or cause damage resulting in a fire or an electric shock.
● Objects in the rearview will appear visually opposite than when viewed in the rearview and outside mirrors.
CAUTION
Do not scratch the camera lens when cleaning dirt or snow from the lens.
See also:
Power liftgate main switch
The power liftgate operation can be turned on or off by the power liftgate main switch on the instrument panel. When the power liftgate main switch is pushed to the OFF position, the power operat ...
FX in the Market
Off-road SUVs proliferated before their numbers thinned, leaving healthy demand for stalwarts like Jeep. Conversely, SUVs designed primarily for on-road sport, like the FX, didn't become a signifi ...
Engine serial number
The number is stamped on the engine as shown. ...