RearView Monitor (if so equipped)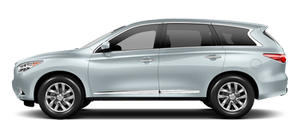 When the shift selector is shifted into the R (Reverse) position, the monitor display shows a rearward view from the vehicle.
The system is designed as an aid to the driver in situations such as slot parking or parallel parking.
WARNING
● The rear view camera is a convenience but it is not a substitute to check behind the vehicle when backing up.
● The driver is always responsible for safety during parking and other maneuvers.
● Objects viewed in the RearView Monitor differ from actual distance because a wide-angle lens is used.
● Make sure that the liftgate is securely closed when backing up.
● Underneath the bumper and the corner areas of the bumper cannot be viewed on the RearView Monitor because of its monitoring range limitation.
● Do not put anything on the rear view camera. The rear view camera is installed above the license plate.
● When washing the vehicle with highpressure water, be sure not to spray it around the camera. Otherwise, water may enter the camera unit causing water condensation on the lens, a malfunction, fire or an electric shock.
● Do not strike the camera. It is a precision instrument. Otherwise, it may malfunction or cause damage resulting in a fire or an electric shock.
● Objects in the rearview will appear visually opposite than when viewed in the rearview and outside mirrors.
CAUTION
Do not scratch the camera lens when cleaning dirt or snow from the lens.
See also:
Removing spots
Remove tar and oil spots, industrial dust, insects, and tree sap as quickly as possible from the paint surface to avoid lasting damage or staining. Special cleaning products are available at a ...
Features & Pricing
The M35 starts at $45,800, which is within range of most V-6 competitors, save the bargain-priced Genesis. It's lavishly equipped at that, with leather upholstery, dual-zone A/C, a moonroof and po ...
FM radio reception
Range: FM range is normally limited to 25 – 30 mi (40 – 48 km), with monaural (single channel) FM having slightly more range than stereo FM. External influences may sometimes interfere with FM station ...