Satellite radio reception (if so equipped)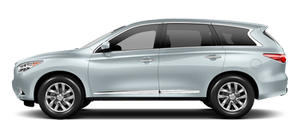 When the satellite radio is used for the first time or the battery has been replaced, the satellite radio may not work properly. This is not a malfunction.
Wait more than 10 minutes with satellite radio ON and the vehicle outside of any metal or large building for satellite radio to receive all of the necessary data.
The satellite radio mode will be skipped unless an optional satellite receiver and antenna are installed and a SiriusXM Satellite Radio service subscription is active. Satellite radio is not available in Alaska, Hawaii and Guam.
Satellite radio performance may be affected if cargo carried on the roof blocks the satellite radio signal.
If possible, do not put cargo over the satellite antenna.
A build up of ice on the satellite radio antenna can affect satellite radio performance. Remove the ice to restore satellite radio reception.
XM is a registered trademark of SiriusXM Satellite Radio, Inc.
See also:
Loose fuel cap warning
Loose fuel cap warning The LOOSE FUEL CAP warning appears on the dot matrix liquid crystal display when the fuel-filler cap is not tightened correctly after the vehicle has been refueled. It may ta ...
Fuel Economy information
The approximate distance to empty, average fuel economy and current fuel economy will be displayed for reference. To reset the average fuel economy (Avg Fuel Econ), select the "Reset Fuel Eco" or "Re ...
Warning systems switch (if so equipped)
The warning systems switch is used to turn on and off the warning systems (Forward Collision Warning (FCW), Lane Departure Warning (LDW) and Blind Spot Warning (BSW) systems) that are activa ...