"Phonebook" (phones with automatic phonebook download function)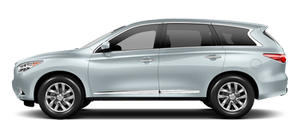 NOTE:
The "Transfer Entry" command is not available when the vehicle is moving.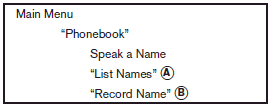 For phones that support automatic download of the phonebook (PBAP Bluetooth profile), the "Phonebook" command is used to manage entries in the vehicle phonebook. You can say the name of an entry at this menu to initiate dialing of that entry.
The phonebook stores up to 1000 names for each phone connected to the system.
When a phone is connected to the system, the phonebook is automatically downloaded to the vehicle. This feature allows you to access your phonebook from the Bluetooth system and call contacts by name. You can record a custom voice tag for contact names that the system has difficulty recognizing. For more information see "Record name" in this section.
NOTE:
Each phone has its own separate phonebook.
You cannot access Phone A's phonebook if you are currently connected with Phone B.
"List Names"
Use the List Names command to hear all the names and locations in the phone book.
The system recites the phone book entries but does not include the actual phone numbers.
When the playback of the list is complete, the system goes back to the main menu.
You can stop the playback of the list at any time by pressing the

button on the steering wheel. The system ends the VR session. See the "Record name"command in this section for information about recording custom voice tags for list entries that the system has difficulty pronouncing.
"Record Name"
The system allows you to record custom voice tags for contact names in the phonebook that the vehicle has difficulty recognizing. This feature can also be used to record voice tags to directly dial an entry with multiple numbers. Up to 40 voice tags can be recorded to the system.
See also:
Commands List
Phone Commands: Navigation Commands: Information Commands: Audio Commands: Help Commands: General Commands: ...
Three-point type seat belt
WARNING • Every person who drives or rides in this vehicle should use a seat belt at all times.• Do not ride in a moving vehicle when the seatback is reclined. This can be dangerous.The shoulder belt ...
How to select menus on the screen
Vehicle functions are viewed on the display screen in menus. To select each key item, highlight the preferred item using the INFINITI controller and push the ENTER button. Whenever a menu selection ...