Off-road recovery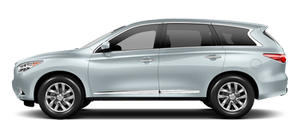 If the right side or left side wheels unintentionally leave the road surface, maintain control of the vehicle by following the procedure below. Please note that this procedure is only a general guide.
The vehicle must be driven as appropriate based on the conditions of the vehicle, road and traffic.
1. Remain calm and do not overreact.
2. Do not apply the brakes.
3. Maintain a firm grip on the steering wheel with both hands and try to hold a straight course.
4. When appropriate, slowly release the accelerator pedal to gradually slow the vehicle.
5. If there is nothing in the way, steer the vehicle to follow the road while vehicle speed is reduced. Do not attempt to drive the vehicle back onto the road surface until vehicle speed is reduced.
6. When it is safe to do so, gradually turn the steering wheel until both tires return to the road surface. When all tires are on the road surface, steer the vehicle to stay in the appropriate driving lane.
● If you decide that it is not safe to return the vehicle to the road surface based on vehicle, road or traffic conditions, gradually slow the vehicle to a stop in a safe place off the road.
See also:
DVD (Digital Versatile Disc) player operation
Precautions Start the engine when using the DVD entertainment system. Movies will not be shown on the front display while the vehicle is in any drive position to reduce driver distraction. Au ...
F.M.V.S.S./C.M.V.S.S. certification label
F.M.V.S.S./C.M.V.S.S. certification label The Federal/Canadian Motor Vehicle Safety Standards (F.M.V.S.S./C.M.V.S.S.) certification label is affixed as shown. This label contains valuable vehicle i ...
Cargo & Towing
Despite a high load-in height and a protruding bumper you'll have to lift items over, the cargo opening isn't as bad as it could be. Other big luxury SUVs, like the Lexus LX 570 and some Land Rove ...