Cleaning exterior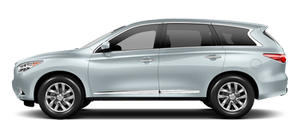 In order to maintain the appearance of your vehicle, it is important to take proper care of it.
To protect the paint surfaces, please wash your vehicle as soon as you can:
● after a rainfall to prevent possible damage from acid rain.
● after driving on coastal roads.
● when contaminants such as soot, bird droppings, tree sap, metal particles or bugs get on the paint surface.
● when dust or mud builds up on the surface.
Whenever possible, store or park your vehicle inside a garage or in a covered area.
When it is necessary to park outside, park in a shady area or protect the vehicle with a body cover.
Be careful not to scratch the paint surface when putting on or removing the body cover.
See also:
Maintenance information
The maintenance intervals can be displayed for the engine oil, oil filter, tire and other reminders. To set a maintenance interval, select a preferred item from the list. You can also set to display ...
Special winter equipment
It is recommended that the following items be carried in the vehicle during winter: ● A scraper and stiff-bristled brush to remove ice and snow from the windows and wiper blades. ● A ...
Locking with mechanical key
Locking with mechanical key The power door lock system allows you to lock or unlock all doors simultaneously using the mechanical key. • Turning the driver's door key cylinder to the front of the ...