Air fresheners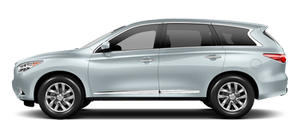 Most air fresheners use a solvent that could affect the vehicle interior. If you use an air freshener, take the following precautions:
● Hanging-type air fresheners can cause permanent discoloration when they contact vehicle interior surfaces. Place the air freshener in a location that allows it to hang free and not contact an interior surface.
● Liquid-type air fresheners typically clip on the vents. These products can cause immediate damage and discoloration when spilled on interior surfaces.
Carefully read and follow the manufacturer's instructions before using the air fresheners.
See also:
Going & Stopping
The M35 should be fine for most drivers. Its V-6 churns out fluid power with no peaky bursts or low-end sluggishness, and under hard acceleration its high-pitched whine should be music to any gear ...
Read first — then drive safely
Before driving your vehicle, read your Owner's Manual carefully. This will ensure familiarity with controls and maintenance requirements, assisting you in the safe operation of your vehicle. WARNING ...
Relative humidity
Corrosion will be accelerated in areas of high relative humidity, especially those areas where the temperatures stay above freezing where atmospheric pollution exists, or where road salt is used. ...