Air fresheners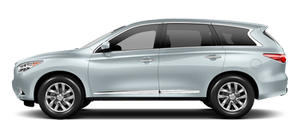 Most air fresheners use a solvent that could affect the vehicle interior. If you use an air freshener, take the following precautions:
● Hanging-type air fresheners can cause permanent discoloration when they contact vehicle interior surfaces. Place the air freshener in a location that allows it to hang free and not contact an interior surface.
● Liquid-type air fresheners typically clip on the vents. These products can cause immediate damage and discoloration when spilled on interior surfaces.
Carefully read and follow the manufacturer's instructions before using the air fresheners.
See also:
G37 in the Market
Apart from the questionable face-lift — and I'm picking on the most subjective of bones there — I believe the G37 will succeed into the current generation's waning years. The 3 Series is the runaw ...
When reading the manual
This manual includes information for all options available on this model. Therefore, you may find some information that does not apply to your vehicle. All information, specifications and illu ...
Coupe
Passenger compartment 1. Coat hooks2. Power windows3. Outside mirror remote control switch4. Automatic drive positioner switch (if so equipped)5. Sun visors6. Moonroof switch (if so equipped)7. Map ...