Air fresheners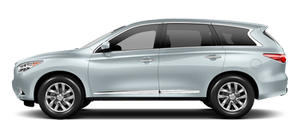 Most air fresheners use a solvent that could affect the vehicle interior. If you use an air freshener, take the following precautions:
● Hanging-type air fresheners can cause permanent discoloration when they contact vehicle interior surfaces. Place the air freshener in a location that allows it to hang free and not contact an interior surface.
● Liquid-type air fresheners typically clip on the vents. These products can cause immediate damage and discoloration when spilled on interior surfaces.
Carefully read and follow the manufacturer's instructions before using the air fresheners.
See also:
Intelligent Key system
WARNING • Radio waves could adversely affect electric medical equipment. Those who use a pacemaker should contact the electric medical equipment manufacturer for the possible influences before use.• ...
To protect your vehicle from corrosion
► Wash and wax your vehicle often to keep the vehicle clean. ► Always check for minor damage to the paint and repair it as soon as possible. ► Keep drain holes at the bottom ...
Replacing
Replace the wiper blades if they are worn. 1. Pull the wiper arm. 2. Push the release tab A , and then move the wiper blade down the wiper arm 1 while pushing the release tab to remove. 3. Inse ...