Cleaning interior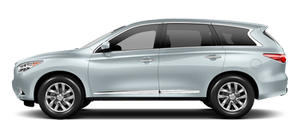 Occasionally remove loose dust from the interior trim, plastic parts and seats using a vacuum cleaner or soft bristled brush. Wipe the vinyl and leather surfaces with a clean, soft cloth dampened in mild soap solution, then wipe clean with a dry, soft cloth.
Regular care and cleaning is required in order to maintain the appearance of the leather.
Before using any fabric protector, read the manufacturer's recommendations. Some fabric protectors contain chemicals that may stain or bleach the seat material.
Use a cloth dampened only with water to clean the meter and gauge lens.
WARNING
Do not use water or acidic cleaners (hot steam cleaners) on the seat. This can damage the seat or occupant classification sensor. This can also affect the operation of the air bag system and result in serious personal injury.
CAUTION
● Never use benzine, thinner or any similar material.
● Small dirt particles can be abrasive and damaging to leather surfaces and should be removed promptly. Do not use saddle soap, car waxes, polishes, oils, cleaning fluids, solvents, detergents or ammonia-based cleaners as they may damage the leather's natural finish.
● Never use fabric protectors unless recommended by the manufacturer.
● Do not use glass or plastic cleaner on meter or gauge lens covers. It may damage the lens cover.
See also:
System components
Rear displays CAUTION ● The glass screen on the liquid crystal display may break if hit with a hard or sharp object. If the glass breaks, do not touch the liquid crystalline material. In cas ...
When traveling or registering your vehicle in another country
When planning to drive your INFINITI vehicle in another country, you should first find out if the fuel available is suitable for your vehicle's engine. Using fuel with an octane rating that is too ...
Tire inflation pressure
Check the pressure of the tires (including the spare) often and always prior to long distance trips. The recommended tire pressure specifications are shown on the Tire and Loading Information label un ...