Checking engine coolant level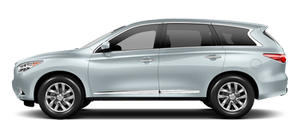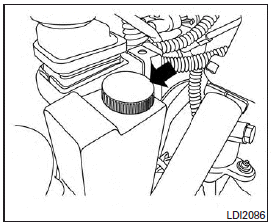 Check the coolant level in the reservoir when the engine is cold. If the coolant level is below the MIN level, add coolant to the MAX level. If the reservoir is empty, check the coolant level in the radiator when the engine is cold. If there is insufficient coolant in the radiator, fill the radiator with coolant up to the filler opening and also add it to the reservoir up to the MAX level.
This vehicle contains Genuine NISSAN Long Life Antifreeze/Coolant (blue). The life expectancy of the factory-fill coolant is 105,000 miles (168,000 km) or 7 years. Mixing any other type of coolant or the use of non-distilled water will reduce the life expectancy of the factory-fill coolant. Refer to the INFINITI Service and Maintenance Guide for more details.
The engine coolant reservoir is a pressurized tank. When installing the cap, tighten it until a clicking sound is heard.
If the cooling system frequently requires coolant, have it checked by an INFINITI retailer.
See also:
V-6 Power
Gallons of ink and multiple terabytes have been expended comparing every iota of the G37 sedan's 3.7-liter V-6 to the optional turbocharged inline-six from its archrival, the BMW 3 Series. Suffice ...
Infants
Infants up to at least 1 year old should be placed in a rear-facing child restraint. INFINITI recommends that infants be placed in child restraints that comply with Federal Motor Vehicle Safet ...
Exterior
Many people have openly expressed disgust with the QX's looks. I wouldn't call it 100 percent ugly, but 60 percent ugly sounds about right. Its proportions don't help. To my eye, its beluga-whale ...