Exterior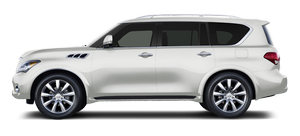 Many people have openly expressed disgust with the QX's looks. I wouldn't call it 100 percent ugly, but 60 percent ugly sounds about right. Its proportions don't help. To my eye, its beluga-whale hood bulge and low-positioned headlights don't mix well with its tall, squared-off roof. It's like a G37 sedan drove into a giant top hat and Infiniti said, yeah, let's run with that.
I drove two QXs before the styling started to grow on me, which was also after I had seen it on the road a few times. I still wouldn't call it handsome, like the Audi Q7, but the Q7's awesomely sleek exterior comes at the cost of interior room.
See also:
Seating & Cargo
Four of the M's five seats offer ample legroom and headroom, but the bulky floor hump in back means a fifth passenger has to share foot room. The front seats have standard 10-way power adjustments ...
Precautions on cruise control
► If the cruise control system malfunctions, it will cancel automatically. The CRUISE indicator light on the meter panel will then blink to warn the driver. ► If the engine coolant ...
Flat towing
Towing your vehicle with all four wheels on the ground is sometimes called flat towing. This method is sometimes used when towing a vehicle behind a recreational vehicle, such as a motor home. ...