2011 Infiniti QX56 Review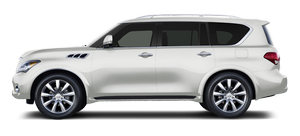 Whenever I said anything good about the 2011 Infiniti QX56 to curious onlookers, their universal comeback was, "But it's so ugly."
The 2011 Infiniti QX56's luxurious interior, composed ride quality, and capability for the money make it a serious competitor among $60,000-plus SUVs Е if you can accept its controversial styling.
From chassis to roof, the 2011 QX56 is significantly different from the 2010. For a comparison with the 2010, see here. Base 2011 models have rear-wheel drive, and the QX56 I tested had all-wheel drive and a bunch of other options that pushed the price just past $75,000; all versions have a 400-horsepower V-8 and seven-speed automatic transmission.
See also:
Precautions on seat belt usage
If you are wearing your seat belt properly adjusted, and you are sitting upright and well back in your seat with both feet on the floor, your chances of being injured or killed in an accident and/or t ...
Turn signal switch
Turn signal switch 1 Turn signal Move the lever up or down to signal the turning direction. When the turn is completed, the turn signals cancel automatically. 2 Lane change signal To indicate a ...
Rapid air pressure loss
Rapid air pressure loss or a Уblow-outФ can occur if the tire is punctured or is damaged due to hitting a curb or pothole. Rapid air pressure loss can also be caused by driving on under-inflat ...