QX56 in the Market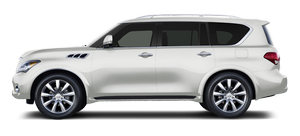 The QX56's do-it-all appeal is enough to make me look past its styling. Its people- and cargo-carrying abilities, its degree of luxury and its towing capacity are impressive.
Despite the overly negative reactions I received about the QX56's appearance, Infiniti's highest-priced SUV outsold the automaker's less-expensive and more stylish EX and FX SUVs from March through May 2011. In fact, during that time period, the QX was outpaced only by the G series, which includes a sedan, coupe and convertible.
For those who find the inside of the QX56 appealing enough to settle for the exterior styling, try these techniques: park it in the back lot behind a tree, resist the over-the-shoulder glance while walking away and just walk backward when returning. It's that easy.