Installing front license plate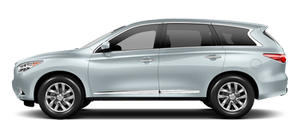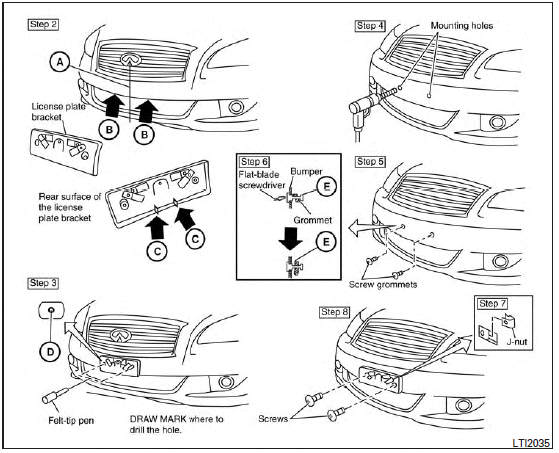 Use the following steps to mount the front license plate:
Before mounting the license plate, confirm that the following parts are enclosed in the plastic bag:
Only use the recommended mounting position, otherwise the Intelligent Cruise Control (ICC) sensor obstruction (if so equipped) may result.
● License plate bracket
● License plate bracket (J-nut) screws x 2
● License plate screws x 2
● Screw grommets x 2
1. Park the vehicle on flat, level ground.
2. Locate the center position A as illustrated.
Line up the license plate bracket under the top of the front bumper B with the tabs C .
Hold the license plate bracket in place.
3. Mark the center of the hole D with a felt-tip pen.
4. Carefully drill two pilot holes using a 0.39 in (10 mm) drill bit at the marked locations. (Be sure that the drill only goes through the bumper fascia.)
5. Insert the grommets into the holes in the bumper fascia.
6. Insert a small flat-bladed screwdriver into the grommet hole to turn the threaded part of the grommet 90° E .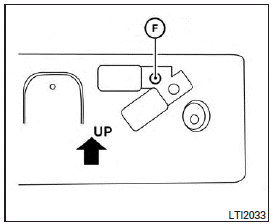 Mark the center of the hole F on both sides with a felt-tip pen. Remove the bracket from the bumper, and then open 0.79 in (20 mm) diameter holes on the bumper using the marks F as a center.
7. Insert a J-nut into the license plate bracket before placing the license plate bracket on the fascia.
8. Install the license plate bracket with screws.
9. Install the license plate with bolts that are no longer than 0.55 in (14 mm).
See also:
Smooth Power, Rough Ride
Driving the IPL home after a long workweek was like slamming a shot of espresso. It's fast and exhilaratingly fun to drive … but so is the base G37 coupe. The IPL adds 18 hp, but I really couldn't ...
Tire equipment
1. SUMMER tires have a tread designed to provide superior performance on dry pavement. However, the performance of these tires will be substantially reduced in snowy and icy conditions. If you oper ...
Engine block heater (if so equipped)
Engine block heaters are used to assist in cold temperature starting. The engine block heater should be used when the outside temperature is 208F (−78C) or lower. To use the engine bloc ...