Installing front license plate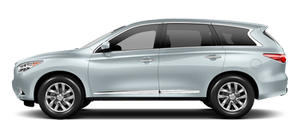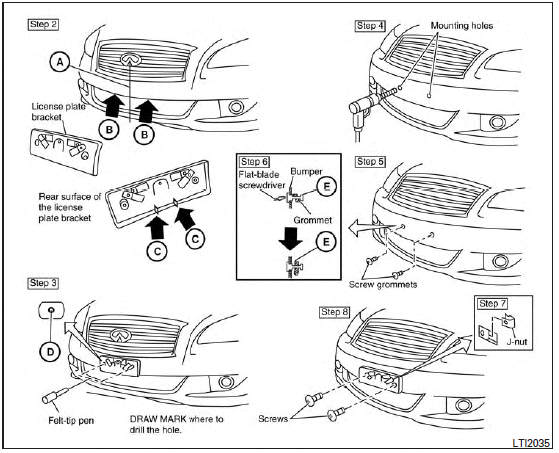 Use the following steps to mount the front license plate:
Before mounting the license plate, confirm that the following parts are enclosed in the plastic bag:
Only use the recommended mounting position, otherwise the Intelligent Cruise Control (ICC) sensor obstruction (if so equipped) may result.
● License plate bracket
● License plate bracket (J-nut) screws x 2
● License plate screws x 2
● Screw grommets x 2
1. Park the vehicle on flat, level ground.
2. Locate the center position A as illustrated.
Line up the license plate bracket under the top of the front bumper B with the tabs C .
Hold the license plate bracket in place.
3. Mark the center of the hole D with a felt-tip pen.
4. Carefully drill two pilot holes using a 0.39 in (10 mm) drill bit at the marked locations. (Be sure that the drill only goes through the bumper fascia.)
5. Insert the grommets into the holes in the bumper fascia.
6. Insert a small flat-bladed screwdriver into the grommet hole to turn the threaded part of the grommet 90° E .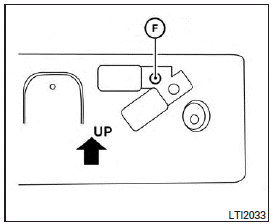 Mark the center of the hole F on both sides with a felt-tip pen. Remove the bracket from the bumper, and then open 0.79 in (20 mm) diameter holes on the bumper using the marks F as a center.
7. Insert a J-nut into the license plate bracket before placing the license plate bracket on the fascia.
8. Install the license plate bracket with screws.
9. Install the license plate with bolts that are no longer than 0.55 in (14 mm).
See also:
Instrument panel
Instrument panel 1. Side ventilator2. Meters and gauges3. Center ventilator4. Audio system5. Clock6. Center multi-function control panel— Navigation system* ( i f so equipped)— Vehicle information ...
Intelligent Key battery replacement
Replace the battery as follows: 1. Release the lock knob at the back of the Intelligent Key and remove the mechanical key. 2. Insert a flat-blade screwdriver A wrapped with a cloth into the slit B ...
General maintenance
General maintenance includes those items which should be checked during normal day-to-day operation. They are essential for proper vehicle operation. It is your responsibility to perform these ...