Terms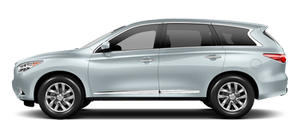 It is important to familiarize yourself with the following terms before loading your vehicle:
● Curb Weight (actual weight of your vehicle) - vehicle weight including: standard and optional equipment, fluids, emergency tools, and spare tire assembly. This weight does not include passengers and cargo.
● GVW (Gross Vehicle Weight) - curb weight plus the combined weight of passengers and cargo.
● GVWR (Gross Vehicle Weight Rating) - maximum total combined weight of the unloaded vehicle, passengers, luggage, hitch, trailer tongue load and any other optional equipment. This information is located on the F.M.V.S.S./C.M.V.S.S. certification label.
● GAWR (Gross AxleWeight Rating) - maximum weight (load) limit specified for the front or rear axle. This information is located on the F.M.V.S.S./C.M.V.S.S. certification label.
● GCWR (Gross Combined Weight rating) - The maximum total weight rating of the vehicle, passengers, cargo, and trailer.
● Vehicle Capacity Weight, Load limit, Total load capacity - maximum total weight limit specified of the load (passengers and cargo) for the vehicle.
This is the maximum combined weight of occupants and cargo that can be loaded into the vehicle. If the vehicle is used to tow a trailer, the trailer tongue weight must be included as part of the cargo load. This information is located on the Tire and Loading Information label.
● Cargo capacity - permissible weight of cargo, the subtracted weight of occupants from the load limit.
See also:
Fuel gauge
The gauge indicates the approximate fuel level in the tank. The gauge may move slightly during braking, turning, acceleration, or going up or down hills. The gauge needle returns to 0 (Empty) ...
How to use touch screen (models with navigation system)
CAUTION • The glass screen on the liquid crystal display may break if it is hit with a hard or sharp object. Do not touch the glass if it breaks. Doing so could result in an injury.• To clean the dis ...
Valet hand-off
When you have to leave a key with a valet, give them the Intelligent Key itself and keep the mechanical key with you to protect your belongings. To prevent the glove box or console box from being o ...