Measurement of weights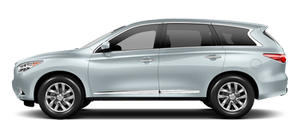 Secure loose items to prevent weight shifts that could affect the balance of your vehicle. When the vehicle is loaded, drive to a scale and weigh the front and the rear wheels separately to determine axle loads. Individual axle loads should not exceed either of the gross axle weight ratings (GAWR). The total of the axle loads should not exceed the gross vehicle weight rating (GVWR). These ratings are given on the vehicle certification label. If weight ratings are exceeded, move or remove items to bring all weights below the ratings.
See also:
How Does It Drive?
The IPL's 18 extra hp give it only the slimmest straight-line edge, with the car posting a 0-to-60-mph time of 5.4 seconds, actually 0.1 second behind the best time we've seen from a G37S coupe. B ...
Emergency engine shut off
To shut off the engine in an emergency situation while driving, perform the following procedure: ► Rapidly push the push-button ignition switch 3 consecutive times in less than 1.5 sec ...
QX56 in the Market
The QX56's do-it-all appeal is enough to make me look past its styling. Its people- and cargo-carrying abilities, its degree of luxury and its towing capacity are impressive. Despite the overly ...