Flat towing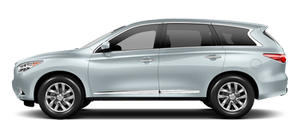 Towing your vehicle with all four wheels on the ground is sometimes called flat towing. This method is sometimes used when towing a vehicle behind a recreational vehicle, such as a motor home.
CAUTION
● Failure to follow these guidelines can result in severe transmission damage.
● Whenever flat towing your vehicle, always tow forward, never backward.
● DO NOT tow any automatic transmission vehicle with all four wheels on the ground (flat towing). Doing so WILL DAMAGE internal transmission parts due to lack of transmission lubrication.
● For emergency towing procedures refer to "Towing recommended by INFINITI" in the "In case of emergency" section of this manual.
Continuously Variable Transmission
To tow a vehicle equipped with a continuously variable transmission, an appropriate vehicle dolly MUST be placed under the towed vehicle's drive wheels. Always follow the dolly manufacturer's recommendations when using their product.
See also:
System operation
The automatic drive positioner system will not work or will stop operating under the following conditions: ► When the vehicle speed is above 4 MPH (7 km/h). ► When the adjusting s ...
Xenon headlights
WARNING HIGH VOLTAGE• When xenon headlights are on, they produce a high voltage. To prevent an electric shock, never attempt to modify or disassemble. Always have your xenon headlights replaced at a ...
Receiving a call
When you hear a phone ring, the display will change to phone mode. To receive a call, follow one of the procedures listed below. a. Select the "Answer" key on the display. b. Press the PHONE b ...