Flat towing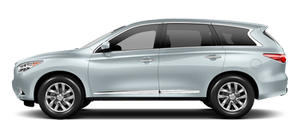 Towing your vehicle with all four wheels on the ground is sometimes called flat towing. This method is sometimes used when towing a vehicle behind a recreational vehicle, such as a motor home.
CAUTION
● Failure to follow these guidelines can result in severe transmission damage.
● Whenever flat towing your vehicle, always tow forward, never backward.
● DO NOT tow any automatic transmission vehicle with all four wheels on the ground (flat towing). Doing so WILL DAMAGE internal transmission parts due to lack of transmission lubrication.
● For emergency towing procedures refer to "Towing recommended by INFINITI" in the "In case of emergency" section of this manual.
Continuously Variable Transmission
To tow a vehicle equipped with a continuously variable transmission, an appropriate vehicle dolly MUST be placed under the towed vehicle's drive wheels. Always follow the dolly manufacturer's recommendations when using their product.
See also:
Voice command examples
To use the INFINITI Voice Recognition function, speaking one command is sometimes sufficient, but at other times it is necessary to speak two or more commands. As examples, some additional basic oper ...
Automatic moonroof
The moonroof will only operate when the ignition switch is placed in the ON position. The automatic moonroof is operational for a period of time, even if the ignition switch is placed in the ACC or ...
Vanity mirror lights
Vanity mirror lights The light on the vanity mirror will turn on when the cover on the vanity mirror is opened. When the cover is closed, the light will turn off. The lights will also turn off af ...