New for 2012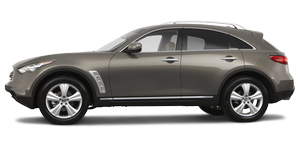 Always a polarizing design, the FX has changed incrementally, again, for 2012, with a new grille that one of our editors thinks is an improvement. To me, it's a step back. (For a while, Infiniti grilles were always different and interesting from one model to the next. Alas, they're growing similar across the lineup.) Also new for 2012 is the all-wheel-drive FX35 Limited Edition, the version we tested. It introduces Iridium Blue paint Ч a crowd-pleaser Ч and includes 21-inch wheels and supposedly dark-tinted headlights and side vents, though they don't look very dark to me.
Thankfully, the Limited Edition also adds some otherwise optional features to justify Ч or perhaps just explain Ч why it costs $52,000, which is $6,850 more than the base FX35 with optional all-wheel drive: A navigation system, the terrific Around View Monitor, aluminum pedals, floormats with blue piping, and a full roof rack are all included. For 2012, all FX models have white gauge backlighting, replacing the previous generation's orange lights.
See also:
Cleaning
If your windshield is not clear after using the windshield washer or if a wiper blade chatters when running, wax or other material may be on the blade or windshield. Clean the outside of the windshie ...
Securing the load
There are luggage hooks located in the cargo area as shown. The hooks can be used to secure cargo with ropes or other types of straps. Do not apply a total load of more than 6.5 lbs. (29 N) to a si ...
Changing engine oil filter
1. Park the vehicle on a level surface and apply the parking brake. 2. Turn the engine off. 3. Place a large drain pan under the oil filter A . 4. Loosen the oil filter A with an oil filter ...