2012 Infiniti FX35 Review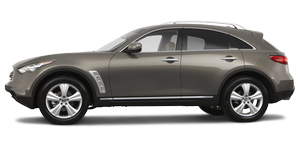 The Infiniti FX was something of a revelation when it made its 2003 debut. At the time, there were few sporty SUVs on the market — unless your definition of sport is the rugged, off-road type rather than the quick, nimble, on-road variety.
The refreshed 2012 Infiniti FX35 is essentially the same sporty performer it's always been, but its balky transmission and the evolving crossover/SUV market make its appeal narrower all the time.
Unlike most SUVs of its time, the 2003 FX35 was based on an enlarged car platform, yet it retained the rear-wheel drive that other models in the nascent crossover movement had abandoned. In a sense, it was an overgrown — and admittedly heavy — version of the G35 sedan and coupe, complete with reasonably balanced weight distribution and good dynamics. It also had ride quality sponsored by the American Dental Association, especially in the V-8-powered FX45 version. With the exception of gradual refinement and some styling changes, including a full redesign for 2009, the FX follows the same formula today. (See all the 2012 FX versions.)
See also:
Using the system
The INFINITI Voice Recognition system allows hands-free operation of the Bluetooth Phone System. If the vehicle is in motion, some commands may not be available so full attention may be given to ve ...
Jump starting
If jump starting is necessary, see "Jump starting" in the "In case of emergency" section of this manual. If the engine does not start by jump starting, the battery may have to be replaced. Contact ...
Vehicle phonebook
This vehicle has two phonebooks available for hands-free use. Depending on the phone, the system may automatically download the entire cell phone's phonebook into the "Handset Phonebook". For the deta ...