Hurry Up? Wait.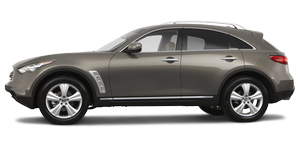 The main problem I had with the FX35 was its seven-speed automatic transmission, which was added in 2009. It hesitates so much when you call for more power that I have a hard time calling this SUV sporty. I'm not even sure I can call it acceptable. I had a similar complaint about the seven-speed in the Infiniti M sedan, but didn't object to it in the G37. This seven-speed replaced a five-speed. More isn't always better.
The FX35's 303-horsepower, 3.5-liter V-6 is no slouch and should satisfy most drivers, even in models saddled with the weight of all-wheel drive. However, an upgrade to Infiniti's newer 3.7-liter engine (and presumably a renamed FX37) might improve the transmission performance: More power almost always makes an automatic transmission's behavior less of an issue, as it does in the FX50, which has a 390-hp, 5.0-liter V-8 and standard all-wheel drive.
EPA-Estimated MPG
(city/highway Ч combined)
2012 FX35 4x2 2012 FX35 4x4 2012 FX50 4x4
16/23 Ч 19 16/21 Ч 18 14/20 Ч 16
The FX's mileage is uninspiring, but the same can be said of comparable luxury SUVs, for which 19 mpg combined is the norm in base versions. Likewise, 16 or 17 mpg is common among the more powerful trim levels. All these models call for premium gasoline.
See also:
Music BoxЃ (if so equipped)
The Music BoxЃ audio system can store songs from CD being played. The system has a 9.3 gigabyte (GB) storage capacity. The following CDs can be recorded in the Music BoxЃ audio system. υ ...
Fuel recommendation
VK56VD engine INFINITI recommends the use of unleaded premium gasoline with an octane rating of at least 91 AKI (Anti-Knock Index) number (Research octane number 96). If unleaded premium gaso ...
Air conditioner specification label
Air conditioner specification label The air conditioner specification label is attached as shown. ...