Interior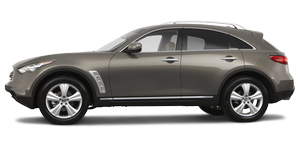 The interior of the FX felt kind of tight and cave-like when I first jumped into it. I thought it would be a claustrophobia-inducing tight squeeze when I loaded both of my kids plus a friend of theirs into the backseat. Much to my surprise, the FX swallowed all three of them easily (the two in outbound positions were in booster seats). We also managed to squeeze three sets of golf clubs in the cargo area with room to spare. Shocking! The FX has more usable interior space than meets the eye.
Despite all that space, there weren't a lot of designated spots to store stuff. I found myself hoping for an under-floor storage bin in the cargo area, as well as door bins to hold random kid stuff that seemed to float around the FX's floor.
Because it was the dog days of summer during my test drive, my favorite feature in the FX35 are the cooled front seats (part of the Premium Package). There's nothing better than a great mountain drive with a Bose audio system thumping my favorite XM channel and seats gracing me with the most gentle, cooling breeze.
Speaking of the audio system, I loved the integrated iPod interface and speed-sensitive volume control. I was easily able to surf through my playlists using the steering-wheel-mounted controls - a huge bonus on those windy mountain roads. When my driving mojo was interrupted by weekend mountain traffic, the FX turned the volume down for me so I could carry on my deep conversation with my passenger (you know, the kind that only happens without kids in the car).
See also:
Card holder (if so equipped)
The card holder is located on or behind the driver's or passenger's sun visor. To use the card holder, slide the card in the card holder. ...
Passenger compartment
1. Cargo light (P.2-68) 2. Cup holders (3rd row seat) (P.2-55) 3. Rear ventilators (P.4-32) 4. Coat hooks (P.2-59) 5. Rear personal lights (P.2-66) 6. Tray (P.2-58) — USB memory operatio ...
Troubleshooting guide
The system should respond correctly to all voice commands without difficulty. If problems are encountered, try the following solutions. Where the solutions are listed by number, try each solution i ...