2010 Infiniti FX35 Review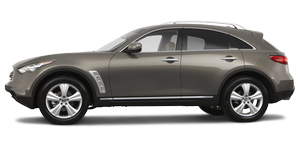 During a recent kid-free weekend, I happened to be test driving the 2010 Infiniti FX35. For the grown-ups-only weekend, I decided to do a trek from Denver to Steamboat Springs, Colo. As much as I was hoping for a break from my normal life as mom - always playing catch-up - the FX35 kept me in catch-up mode.
A lag in the FX35's acceleration combined with super-soft brakes made me feel like I had to read the mind of the driver in front of me and mentally drive two seconds ahead of the game. This proved to be as draining as cleaning my house with my daughters on my heels messing it up again. The FX35's steering felt heavy and unresponsive, and its stiff sports-car-like ride made day-to-day errands more of a chore than they already are.
Filling up the thirsty FX also grew tiresome. With an EPA-estimated fuel economy 16/21 mpg city/ highway and a premium fuel requirement, filling up this baby was more of an expensive chore than I had anticipated.
In the real world, the worst consequence to my constant game of catch-up is a laundry room full off dirty clothes and no milk in the fridge for breakfast. In the Infiniti, the stakes were a little pricier. Jeez, I need a nap just reflecting on it.
See also:
Flat towing
Towing your vehicle with all four wheels on the ground is sometimes called flat towing. This method is sometimes used when towing a vehicle behind a recreational vehicle, such as a motor home. CAUTI ...
Moisture
Accumulation of sand, dirt and water on the vehicle body underside can accelerate corrosion. Wet floor coverings will not dry completely inside the vehicle, and should be removed for drying to avoid f ...
Engine cooling system
The engine cooling system is filled at the factory with a pre-diluted mixture of 50% Genuine NISSAN Long Life Antifreeze/Coolant (blue) and 50% water to provide year-round anti-freeze and coolant prot ...