Safety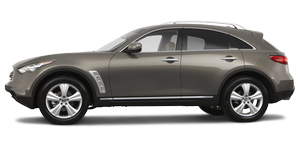 The FX has all of the safety features you'd expect as standard equipment: dual-stage front-impact airbags, seat-mounted side-impact airbags, roof-mounted side curtain airbags for both rows, stability control, traction control and a tire pressure monitoring system.
I know I've spent a fair amount of time complaining about the FX35's visibility issues. Infiniti isn't blind to this (pun intended), and they give FX buyers options to help minimize this problem. As part of the Navigation Package, an Around View Monitor system helps you to see all four sides using cameras mounted on the car. It's as if you're a bird hovering above the car looking straight down on it. This took me longer to get used to that I thought it would. Apparently, my brain just doesn't work that way. This system is great when it's used with the front and rear park assist system, which has sonar sensors in the front and rear bumpers. It doesn't help when the car's in Drive, however, and I found myself wishing for blind-spot indicators.
As part of the optional Technology Package, the FX35 is equipped with active cruise control, which keeps your car at a set distance from the car ahead of you. It was a pleasure to use when it was working. I experienced a blip with the system while driving in the mountains, and I couldn't get the cruise control to work at all.
The lane departure warning system, which is also part of the Technology Package and can be turned off and on at your leisure, will give you an audible beep when you drift outside of the painted lane on the road. Also part of this package is Forward Collision Warning system. It alerts you if it thinks you're not stopping quickly enough to avoid a collision with the car in front of you.
My children - both in Britax booster seats - were able to access and buckle their seatbelts easily and without assistance from me. The Latch connectors are accessible via a slit in the seat cushion. Despite the start of a good design for its Latch connectors, they're still recessed too deeply to get to easily. Depending upon your finger dexterity, you might need to resort to using the seat belts to install some child-safety seats instead of the Latch system.
See also:
Center multi-function control panel
1. "CAMERA" Around View Monitor display button (P.4-21) 2, 6, 7.For navigation system control buttons (Refer to the separate Navigation System Owner's Manual.) 3. INFINITI controller (P.4-4) ...
How to use the INFINITI controller
Choose an item on the display by rotating or pushing the center dial 2 upward or downward. Press the ENTER button 1 to select an item. If you press either of the BACK buttons 3 before the o ...
How to switch the display
The Around View Monitor display consists of the left and the right screens. You can see a combination of different views on the screens as illustrated above. Starting with the selector lever op ...