Passenger compartment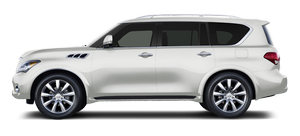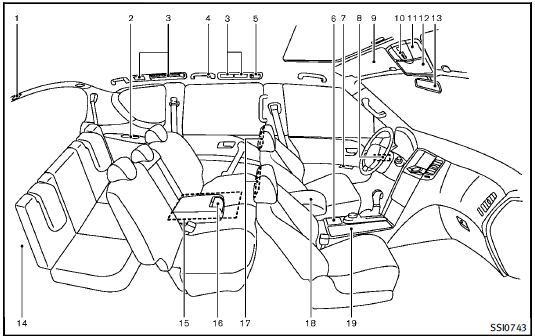 1. Cargo light (P.2-68)
2. Cup holders (3rd row seat) (P.2-55)
3. Rear ventilators (P.4-32)
4. Coat hooks (P.2-59)
5. Rear personal lights (P.2-66)
6. Tray (P.2-58)
— USB memory operation (P.4-59)
— iPod® player operation (P.4-68)
7. Door armrest
— Power window controls (P.2-61)
— Power door lock switch (P.3-5)
8. Automatic drive positioner switch (P.3-30)
9. Sun visors (P.3-27)
10. Moon roof switch (P.2-63)
11. Map lights (P.2-66)
12. Sunglasses holder (P.2-56)
13. Inside rearview mirror (P.3-27)
— HomeLink® universal transceiver (P.2-68)
14. Cargo area
— Power outlet (P.2-52)
— Cargo floor box (P.2-60)
— Luggage hooks (P.2-59)
— Jacking tools (P.6-4)
15. Rear console box (P.2-58)
— Cup holders (2nd row seat) (P.2-54)
— Pocket (P.2-58)
16. Cup holders (2nd row seat) (P.2-54)
17. Dual head restraint DVD system
(P.4-81)
18. Console box (P.2-57)
— Power outlet (P.2-52)
— Auxiliary input jacks (P.4-76, P.4-82)
— Rear automatic air conditioning system (P.4-38)
19. Power outlet (P.2-52)/Front cup holders (P.2-54)
See also:
Doors
WARNING • Always have the doors locked while driving. Along with the use of seat belts, this provides greater safety in the event of an accident by helping to prevent persons from being thrown from t ...
Headlights
Replacing Xenon headlight bulb: WARNING HIGH VOLTAGEWhen xenon headlights are on, they produce a high voltage. To prevent an electric shock, never attempt to modify or disassemble.Always have your ...
Tire Pressure Monitoring System (TPMS)
Each tire, including the spare (if provided), should be checked monthly when cold and inflated to the inflation pressure recommended by the vehicle manufacturer on the vehicle placard or tire inflatio ...