Wheels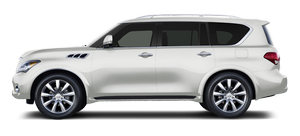 Wash the wheels when washing the vehicle to maintain their appearance.
► Clean the inner side of the wheels when the wheel is changed or the underside of the vehicle is washed.
► Inspect wheel rims regularly for dents or corrosion. Such damage may cause loss of pressure or poor seal at the tire bead.
► INFINITI recommends that the road wheels be waxed to protect against road salt in areas where it is used during winter.

CAUTION
Do not use abrasive cleaners when washing the wheels.
Aluminum alloy wheels
Wash regularly with a sponge dampened in a mild soap solution, especially during winter months in areas where road salt is used. Salt could discolor the wheels if not removed.

CAUTION
Follow the directions below to avoid staining or discoloring the wheels:
► Do not use a cleaner that uses strong acid or alkali contents to clean the wheels.
► Do not apply wheel cleaners to the wheels when they are hot. The wheel temperature should be the same as ambient temperature.
► Rinse the wheel to completely remove the cleaner within 15 minutes after the cleaner is applied.
See also:
FM-AM-SAT radio with Compact Disc (CD) player
For all operation precautions, see "Audio operation precautions" earlier in this section. The satellite radio mode requires an active XM Satellite Radio subscription. The satellite radio is no ...
Vehicle Security System
The vehicle security system provides visual and audio alarm signals if someone opens the doors, hood, or trunk lid when the system is armed. It is not, however, a motion detection type system that act ...
BCI system operation
● When the radar sensors may not be able to detect certain objects such as: – Pedestrians, bicycles, animals – A vehicle that passing at speeds greater than approximately 15 MPH (24 km/h ...