Small children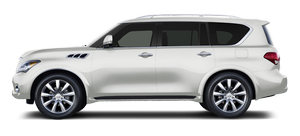 Children that are over 1 year old and weigh at least 20 lbs (9 kg) should remain in a rear-facing child restraint as long as possible up to the height or weight limit of the child restraint. Forward-facing child restraints are available for children who outgrow rear-facing child restraints and are at least 1 year old. Refer to the manufacturer's instructions for minimum and maxi m u m w e i g h t a n d h e i g h t recommendations. INFINITI recommends that small children be placed in child restraints that comply with Federal Motor Vehicle Safety Standards or Canadian Motor Vehicle Safety Standards. You should choose a child restraint that fits your vehicle and always follow the manufacturer's instructions for installation and use.
See also:
Checking bulbs
With all doors closed, apply the parking brake and push the ignition switch to the ON position without starting the engine. The following lights will come on (if so equipped): The following ...
FCC Regulatory information
• CAUTION: To maintain compliance with FCC's RF exposure guidelines, use only the supplied antenna. Unauthorized antenna, modification, or attachments could damage the transmitter and may violate FCC ...
Control buttons
Control buttons 1) PHONE button 2) TALK /PHONE SEND button ...