Engine coolant temperature gauge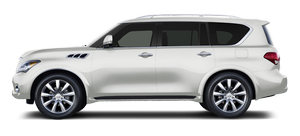 The gauge indicates the engine coolant temperature. The engine coolant temperature is within the normal range when the gauge needle points within the zone 1 shown in the illustration. The engine coolant temperature varies with the outside air temperature and driving conditions.

CAUTION
If the gauge indicates engine coolant temperature near the hot (H) end of the normal range, reduce vehicle speed to decrease temperature. If gauge is over the normal range, stop the vehicle as soon as safely possible. If the engine is overheated, continued operation of the vehicle may seriously damage the engine. See "If your vehicle overheats" in the "6. In case of emergency" section for immediate action required.
See also:
Conventional (fixed speed) cruise control mode
This mode allows driving at a speed between 25 to 89 MPH (40 to 144 km/h) without keeping your foot on the accelerator pedal. WARNING • In the conventional (fixed speed) cruise control mode, a warni ...
Activating Standard Mode
When the Alternate Command Mode is active, perform the following steps to switch to the Standard Mode. 1. Push the SETTING button on the instrument panel. 2. Select the "Others" key. 3. Select th ...
INFINITI Voice Recognition Alternate Command Mode
The following section is applicable when Alternate Command Mode is activated. When Alternate Command Mode is activated, an expanded list of commands can be used after pushing the TALK switc ...