Engine coolant temperature gauge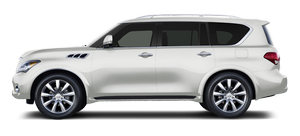 The gauge indicates the engine coolant temperature. The engine coolant temperature is within the normal range when the gauge needle points within the zone 1 shown in the illustration. The engine coolant temperature varies with the outside air temperature and driving conditions.

CAUTION
If the gauge indicates engine coolant temperature near the hot (H) end of the normal range, reduce vehicle speed to decrease temperature. If gauge is over the normal range, stop the vehicle as soon as safely possible. If the engine is overheated, continued operation of the vehicle may seriously damage the engine. See "If your vehicle overheats" in the "6. In case of emergency" section for immediate action required.
See also:
How to use INFO button
The display screen shows vehicle and navigation information for your convenience. The information shown on the screen should be a guide to determine the condition of the vehicle. See the follo ...
Warning signals
To help prevent the vehicle from moving unexpectedly by erroneous operation of the Intelligent Key listed on the following chart or to help prevent the vehicle from being stolen, chime or beep ...
Underbody
In areas where road salt is used in winter, the underbody must be cleaned regularly. This will prevent dirt and salt from building up and causing the acceleration of corrosion on the underbody ...