Engine coolant temperature gauge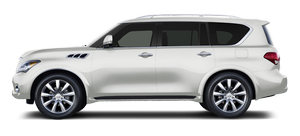 The gauge indicates the engine coolant temperature. The engine coolant temperature is within the normal range when the gauge needle points within the zone 1 shown in the illustration. The engine coolant temperature varies with the outside air temperature and driving conditions.

CAUTION
If the gauge indicates engine coolant temperature near the hot (H) end of the normal range, reduce vehicle speed to decrease temperature. If gauge is over the normal range, stop the vehicle as soon as safely possible. If the engine is overheated, continued operation of the vehicle may seriously damage the engine. See "If your vehicle overheats" in the "6. In case of emergency" section for immediate action required.
See also:
Automatic climate control
WARNING ► The air conditioner cooling function operates only when the engine is running. ► Do not leave children or adults who would normally require the support of others alone ...
The Inside
What our G37's gray cabin lacked in finishes, it made up for in materials quality. Padded surfaces run all the way down to foot level, with soft-touch areas in all the places your knees, elbows or ...
When reading the manual
This manual includes information for all options available on this model. Therefore, you may find some information that does not apply to your vehicle. All information, specifications and illu ...