Engine coolant temperature gauge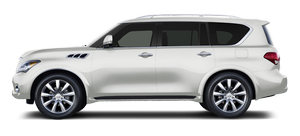 The gauge indicates the engine coolant temperature. The engine coolant temperature is within the normal range when the gauge needle points within the zone 1 shown in the illustration. The engine coolant temperature varies with the outside air temperature and driving conditions.

CAUTION
If the gauge indicates engine coolant temperature near the hot (H) end of the normal range, reduce vehicle speed to decrease temperature. If gauge is over the normal range, stop the vehicle as soon as safely possible. If the engine is overheated, continued operation of the vehicle may seriously damage the engine. See "If your vehicle overheats" in the "6. In case of emergency" section for immediate action required.
See also:
Entry/exit function
This system is designed so that the driver's seat and steering column will automatically move when the automatic transmission selector lever is in the P (Park) position. This allows the driver ...
Special winter equipment
It is recommended that the following items be carried in the vehicle during winter: ► A scraper and stiff-bristled brush to remove ice and snow from the windows and wiper blades. υ ...
"Connect Phone"
NOTE: The Add Phone command is not available when the vehicle is moving. Use the Connect Phone commands to manage the phones connecting to the vehicle or to enable the Bluetooth function on the ...