Engine coolant temperature gauge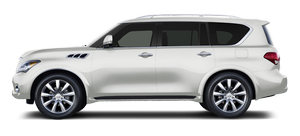 The gauge indicates the engine coolant temperature. The engine coolant temperature is within the normal range when the gauge needle points within the zone 1 shown in the illustration. The engine coolant temperature varies with the outside air temperature and driving conditions.

CAUTION
If the gauge indicates engine coolant temperature near the hot (H) end of the normal range, reduce vehicle speed to decrease temperature. If gauge is over the normal range, stop the vehicle as soon as safely possible. If the engine is overheated, continued operation of the vehicle may seriously damage the engine. See "If your vehicle overheats" in the "6. In case of emergency" section for immediate action required.
See also:
Engine compartment check locations
VQ35DE engine 1. Power steering fluid reservoir 2. Engine coolant reservoir 3. Drive belt location 4. Fuse box 5. Engine oil filler cap 6. Brake fluid reservoir 7. Air cleaner ...
Heated seats (if so equipped)
WARNING Do not use or allow occupants to use the seat heater if you or the occupants cannot monitor elevated seat temperatures or have an inability to feel pain in body parts that contact the seat. U ...
Fail-safe
When the fail-safe operation occurs, note that the transmission will be locked in any of the forward gears according to the condition. If the vehicle is driven under extreme conditions, such as exces ...