Voltmeter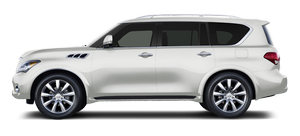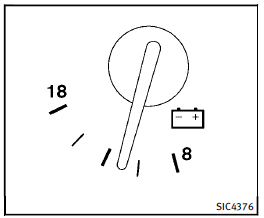 When the ignition switch is pushed to the ON position, the volt meter indicates the battery voltage. When the engine is running, it indicates the generator voltage. While cranking the engine, the volt drop below the normal range. If the needle is not in the normal range (10.5 to 15.5 volt) while the engine is running, it may indicate that the charging system is not functioning properly. Have the system checked by an INFINITI retailer.
See also:
Aluminum alloy wheels
Wash regularly with a sponge dampened in a mild soap solution, especially during winter months in areas where road salt is used. Salt could discolor the wheels if not removed. CAUTION Follow the dir ...
Oil additives
INFINITI does not recommend the use of oil additives. The use of an oil additive is not necessary when the proper oil type is used and maintenance intervals are followed. Oil which may contain foreig ...
Ignition switch positions
LOCK (Normal parking position) : The ignition switch can only be locked in the LOCK position. The ignition switch will be unlocked when it is placed in the ACC position while carrying the Intellig ...