Voltmeter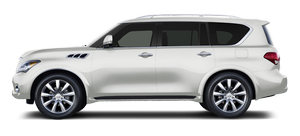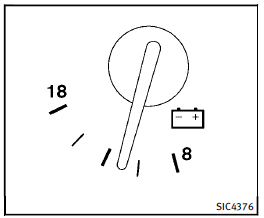 When the ignition switch is pushed to the ON position, the volt meter indicates the battery voltage. When the engine is running, it indicates the generator voltage. While cranking the engine, the volt drop below the normal range. If the needle is not in the normal range (10.5 to 15.5 volt) while the engine is running, it may indicate that the charging system is not functioning properly. Have the system checked by an INFINITI retailer.
See also:
Fail-safe
When the fail-safe operation occurs, note that the transmission will be locked in any of the forward gears according to the condition. If the vehicle is driven under extreme conditions, such as exces ...
All season tires
INFINITI specifies all season tires on some models to provide good performance all year, including snowy and icy road conditions. All Season tires are identified by ALL SEASON and/or M&S (Mud and ...
Small children
Children that are over 1 year old and weigh at least 20 lbs (9 kg) should remain in a rear-facing child restraint as long as possible up to the height or weight limit of the child restraint. Children ...