Intelligent Brake Assist (IBA) OFF switch (if so equipped)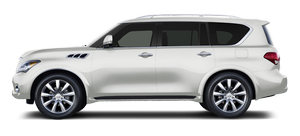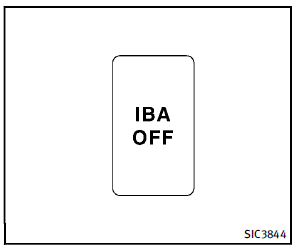 The vehicle should be driven with the Intelligent Brake Assist (IBA) system on for most driving conditions. The Intelligent Brake Assist (IBA) system will sound a warning chime to alert the driver when the vehicle is traveling too close to the vehicle ahead and will apply the brake control if necessary. To turn off the system, push the IBA OFF switch. The

indicator will illuminate. The IBA system will remain in the last ON or OFF state it was left in until it is manually changed by pushing the IBA OFF switch. See "Intelligent Brake Assist (IBA) system" in the "5. Starting and driving" section.
See also:
Radio
Place the ignition switch in the ACC or ON position and press the VOL (volume)/ON·OFF (power) knob to turn the radio on. If you listen to the radio with the engine not running, the ignition switch sho ...
Aftermarket fuel additives
INFINITI does not recommend the use of any aftermarket fuel additives (Example: fuel injector cleaner, octane booster, intake valve deposit removers, etc.) which are sold commercially. Many of these a ...
Warning lights
For additional information on warnings and indicators, see "Vehicle information display" later in this section. Anti-lock Braking System (ABS) warning light When the ignition switch is placed in the ...