Infiniti Drive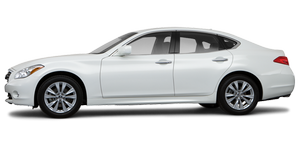 The M's throttle sensitivity and transmission mapping are fine tuned according to which of four driver-selectable modes is engaged via a switch positioned behind the gear lever: Standard, Eco, Sport and Snow. The Eco mode utilizes green and yellow lights on the instrument panel to provide feedback on fuel efficiency. Eco mode also introduces a new Infiniti concept known as the Eco Pedal. If driving too aggressively, the driver will feel the accelerator pedal "push back" to indicate fuel is being wasted. Sport mode changes the automatic shift points and enhances throttle response for increased performance. It will also adjust the 4WAS for a nimbler feel and raise the ESP intervention level.
See also:
Smooth Power, Rough Ride
Driving the IPL home after a long workweek was like slamming a shot of espresso. It's fast and exhilaratingly fun to drive … but so is the base G37 coupe. The IPL adds 18 hp, but I really couldn't ...
Tilt/telescopic steering
WARNING ● Do not adjust the steering wheel while driving. You could lose control of your vehicle and cause an accident. ● Do not adjust the steering wheel any closer to you than is n ...
Lane departure warning (LDW) system
Precautions on LDW system WARNING ● This system is only a warning device to inform the driver of a potential unintended lane departure. It will not steer the vehicle or prevent loss of contr ...