Overview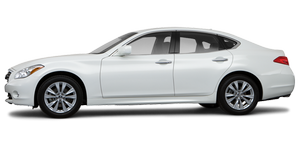 With the Infiniti M a new style of performance saloon - brimming with passion, craftsmanship and driver appeal - comes to Europe in 2010 as the world's newest luxury automotive brand Infiniti faces up to the traditional executive car hierarchy for the first time. Power, performance and technology all come together with signature Infiniti sophistication in the all-new Infiniti M Line which makes its official public debut in the USA, prior to European sales starting September 2010.
Featuring industry-first features, advanced Safety Shield technology and displaying Infiniti's unswerving commitment to passionate design and a rewarding drive, Infiniti's latest example of Inspired Performance will be the first Infiniti M to be available in all of Infiniti's 34 world markets - including Western Europe.
A more exclusive alternative to the traditional stalwarts of the executive class, such as the BMW 5-series and Mercedes E-Class, the Infiniti M Line goes on sale in European showrooms from September 2010 with petrol and diesel V6 power options, while an innovative petrol-electric hybrid is due to join the range in Europe in 2011.
The Infiniti M Line takes Infiniti's saloon range in Europe - which also includes the Infiniti G37 - to a higher new level, inside, outside and on the road, too. The Infiniti M combines rear-wheel-drive poise with impeccable luxury credentials in a 4945mm-long saloon with space to spare inside the best designed and finished cabin that Infiniti has ever offered. As flagship saloon for the brand, the Infiniti M Line also revels in the uniqueness that is Infiniti, from the flowing lines of the Essence concept car-inspired profile and the integrity of the natural materials used, to the pledge of an utterly hassle-free ownership experience.
Infiniti's most technologically advanced and beautiful saloon yet, the third-generation Infiniti M will bring with it to Europe its unimpeachable reputation for quality among American luxury car-buyers. Every Infiniti M model will also arrive designed and equipped to succeed in some of the world's toughest executive car markets, blending qualities that have made it a popular car in the US with the high-performance abilities needed to compete on European roads.
The new Infiniti M Line has been able to call on key Infiniti strengths in order to satisfy more demanding drivers. These include lightweight componentry, adaptive technology, race-bred engine design, sophisticated chassis design with almost perfect weight distribution and proven double-wishbone suspension with the availability in some models of Infiniti's acclaimed sports handling technology, 4-Wheel Active Steering (4WAS). To the benefit of looks, ride and cabin room, the M also benefits from one of the longest wheelbases in the class.
The new Infiniti M has its first outing - in the metal - at an unveiling in Beverly Hills, California, prior to US sales commencing in the spring of 2010. An earlier debut, in August this year, was as a "virtual" car created in 3D by video mapping - presaging a trend for "firsts" that the new Infiniti M Line is well placed to expand upon.
See also:
Push-button ignition switch operation
Push-button ignition switch operation When the ignition switch is pushed without depressing the brake pedal (automatic transmission model) or the clutch pedal (manual transmission model), the ignit ...
Tire equipment
SUMMER tires have a tread designed to provide superior performance on dry pavement. However, the performance of these tires will be substantially reduced in snowy and icy conditions. If you op ...
Wheel balance
Unbalanced wheels may affect vehicle handling and tire life. Even with regular use, wheels can get out of balance. Therefore, they should be balanced as required. Wheel balance service should be perf ...