Intelligent Key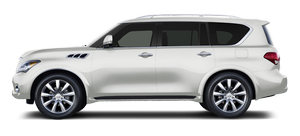 Your vehicle can only be driven with the Intelligent Keys which are registered to your vehicle's Intelligent Key system components and INFINITI Vehicle Immobilizer System components. As many as 4 Intelligent Keys can be registered and used with one vehicle. The new keys must be registered by an INFINITI retailer prior to use with the Intelligent Key system and INFINITI Vehicle Immobilizer System of your vehicle. Since the registration process requires erasing all memory in the Intelligent Key components when registering new keys, be sure to take all Intelligent Keys that you have to the INFINITI retailer.

CAUTION
► Be sure to carry the Intelligent Key with you when driving. The Intelligent Key is a precision device with a built-in transmitter. To avoid damaging it, please note the following. — The Intelligent Key is water resistant; however, wetting may damage the Intelligent Key. If the Intelligent
Key gets wet, immediately wipe until it is completely dry. — Do not bend, drop or strike it against another object. — If the outside temperature is below 148F (−108C), the battery of the Intelligent Key may not function properly. — Do not place the Intelligent Key for an extended period in a place where temperatures exceed 1408F (608C). — Do not change or modify the Intelligent Key. — Do not use a magnet key holder. — Do not place the Intelligent Key near an electric appliance such as a television set or personal computer. — Do not allow the Intelligent Key to come into contact with water or salt water, and do not wash it in a washing machine. This could affect the system function.
► If an Intelligent Key is lost or stolen, INFINITI recommends erasing the ID code of that Intelligent Key. This will prevent the Intelligent Key from unauthorized use to unlock the vehicle. For information regarding the erasing procedure, please contact an INFINITI retailer.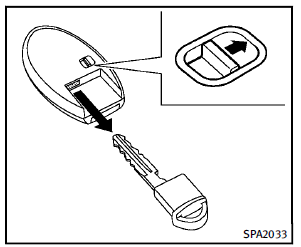 Mechanical key
To remove the mechanical key, release the lock knob at the back of the Intelligent Key. To install the mechanical key, firmly insert it into the Intelligent Key until the lock knob returns to the lock position. Use the mechanical key to lock or unlock the doors and the glove box. See "Doors" later in this section, "Storage" in the "2. Instruments and controls" section.

CAUTION
Always carry the mechanical key installed in the Intelligent Key.
See also:
Front auxiliary input jacks
The front auxiliary input jacks are located in the console box. NTSC compatible devices such as video games, camcorders and portable video players can be connected to the auxiliary jacks. Co ...
HomeLink® Universal Transceiver (if so equipped)
HomeLink® Universal Transceiver provides a convenient way to consolidate the functions of up to three individual hand-held transmitters into one built-in device. HomeLink® Universal Transceiver: . Wi ...
Manual operation (if so equipped)
Manual operation (if so equipped) Tilt or telescopic operation Pull the lock lever 1 down and adjust the steering wheel up, down, forward or rearward to the desired position. Push the lock lever ...