Tire dressings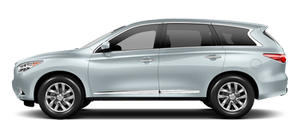 INFINITI does not recommend the use of tire dressings. Tire manufacturers apply a coating to the tires to help reduce discoloration of the rubber.
If a tire dressing is applied to the tires, it may react with the coating and form a compound. This compound may come off the tire while driving and stain the vehicle paint.
If you choose to use a tire dressing, take the following precautions:
● Use a water-based tire dressing. The coating on the tire dissolves more easily than with an oil-based tire dressing.
● Apply a light coat of tire dressing to help prevent it from entering the tire tread/grooves (where it would be difficult to remove).
● Wipe off excess tire dressing using a dry towel. Make sure the tire dressing is completely removed from the tire tread/grooves.
● Allow the tire dressing to dry as recommended by tire dressing manufacturer.
See also:
Environmental factors influence the rate of corrosion
Moisture Accumulation of sand, dirt and water on the vehicle body underside can accelerate corrosion. Wet floor coverings will not dry completely inside the vehicle and should be removed for dryin ...
Remote starting the vehicle
perform the following: 1. Aim the Intelligent Key at the vehicle. 2. Press the LOCK button to lock all doors. 3. Within 5 seconds press and hold the remote start button until the turn ...
Fog lights
Replacing the fog light bulb If replacement is required, see your INFINITI retailer. CAUTION ● High pressure halogen gas is sealed inside the halogen bulb. The bulb may break if the glass e ...