Tire dressings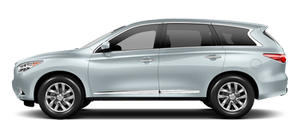 INFINITI does not recommend the use of tire dressings. Tire manufacturers apply a coating to the tires to help reduce discoloration of the rubber.
If a tire dressing is applied to the tires, it may react with the coating and form a compound. This compound may come off the tire while driving and stain the vehicle paint.
If you choose to use a tire dressing, take the following precautions:
● Use a water-based tire dressing. The coating on the tire dissolves more easily than with an oil-based tire dressing.
● Apply a light coat of tire dressing to help prevent it from entering the tire tread/grooves (where it would be difficult to remove).
● Wipe off excess tire dressing using a dry towel. Make sure the tire dressing is completely removed from the tire tread/grooves.
● Allow the tire dressing to dry as recommended by tire dressing manufacturer.
See also:
How to use the INFINITI controller
Choose an item on the display by rotating or pushing the center dial 2 upward or downward. Press the ENTER button 1 to select an item. If you press either of the BACK buttons 3 before the o ...
Chrome parts
Clean chrome parts regularly with a nonabrasive chrome polish to maintain the finish. ...
12v outlets
The power outlets are for powering electrical accessories such as cellular telephones. They are rated at 12 volt, 120W (10A) maximum. The power outlets are powered only when the ignition switch i ...