Tire dressings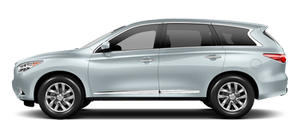 INFINITI does not recommend the use of tire dressings. Tire manufacturers apply a coating to the tires to help reduce discoloration of the rubber.
If a tire dressing is applied to the tires, it may react with the coating and form a compound. This compound may come off the tire while driving and stain the vehicle paint.
If you choose to use a tire dressing, take the following precautions:
● Use a water-based tire dressing. The coating on the tire dissolves more easily than with an oil-based tire dressing.
● Apply a light coat of tire dressing to help prevent it from entering the tire tread/grooves (where it would be difficult to remove).
● Wipe off excess tire dressing using a dry towel. Make sure the tire dressing is completely removed from the tire tread/grooves.
● Allow the tire dressing to dry as recommended by tire dressing manufacturer.
See also:
Draining of coolant water
If the vehicle is to be left outside without antifreeze, drain the cooling system, including the engine block. Refill before operating the vehicle. For details, see "Changing engine coolant" in the ...
Using the system
Depress the brake pedal and hold it down. Depress the brake pedal with firm steady pressure, but do not pump the brakes. The ABS will operate to prevent the wheels from locking up. Steer the vehicle ...
After the operation
1. Install the engine undercover into position as the following steps. a. Pull the center of the small plastic clip out. b. Hold the engine undercover into position. c. Insert the clip through the ...