Tire dressings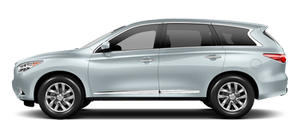 INFINITI does not recommend the use of tire dressings. Tire manufacturers apply a coating to the tires to help reduce discoloration of the rubber.
If a tire dressing is applied to the tires, it may react with the coating and form a compound. This compound may come off the tire while driving and stain the vehicle paint.
If you choose to use a tire dressing, take the following precautions:
● Use a water-based tire dressing. The coating on the tire dissolves more easily than with an oil-based tire dressing.
● Apply a light coat of tire dressing to help prevent it from entering the tire tread/grooves (where it would be difficult to remove).
● Wipe off excess tire dressing using a dry towel. Make sure the tire dressing is completely removed from the tire tread/grooves.
● Allow the tire dressing to dry as recommended by tire dressing manufacturer.
See also:
Drive belts
1. Power steering fluid pump 2. Water pump 3. Alternator 4. Crankshaft pulley 5. Air conditioner compressor WARNING Be sure the ignition switch is in the OFF or LOCK position before se ...
New for 2012
Always a polarizing design, the FX has changed incrementally, again, for 2012, with a new grille that one of our editors thinks is an improvement. To me, it's a step back. (For a while, Infiniti g ...
Hazard warning flasher switch
Hazard warning flasher switch Push the switch on to warn other drivers when you must stop or park under emergency conditions. All turn signal lights will flash. WARNING • If stopping for an emerg ...