Tire dressings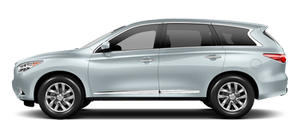 INFINITI does not recommend the use of tire dressings. Tire manufacturers apply a coating to the tires to help reduce discoloration of the rubber.
If a tire dressing is applied to the tires, it may react with the coating and form a compound. This compound may come off the tire while driving and stain the vehicle paint.
If you choose to use a tire dressing, take the following precautions:
● Use a water-based tire dressing. The coating on the tire dissolves more easily than with an oil-based tire dressing.
● Apply a light coat of tire dressing to help prevent it from entering the tire tread/grooves (where it would be difficult to remove).
● Wipe off excess tire dressing using a dry towel. Make sure the tire dressing is completely removed from the tire tread/grooves.
● Allow the tire dressing to dry as recommended by tire dressing manufacturer.
See also:
Difference between predicted and actual distances
The distance guide line and the vehicle width guide line on the front and the rearview should be used as a reference only when the vehicle is on a level, paved surface. The distance viewed on ...
Distance Control Assist (DCA) system (if so equipped)
The Distance Control Assist (DCA) system brakes and moves the accelerator pedal upward according to the distance from and the relative speed of the vehicle ahead to help assist the driver to m ...
How to select menus on the screen
Vehicle functions are viewed on the center display screen in menus. Whenever a menu selection is made or menu item is highlighted, different areas on the screen provide you with important informatio ...