Tire dressings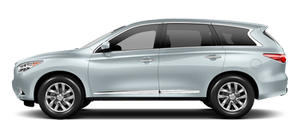 INFINITI does not recommend the use of tire dressings. Tire manufacturers apply a coating to the tires to help reduce discoloration of the rubber.
If a tire dressing is applied to the tires, it may react with the coating and form a compound. This compound may come off the tire while driving and stain the vehicle paint.
If you choose to use a tire dressing, take the following precautions:
● Use a water-based tire dressing. The coating on the tire dissolves more easily than with an oil-based tire dressing.
● Apply a light coat of tire dressing to help prevent it from entering the tire tread/grooves (where it would be difficult to remove).
● Wipe off excess tire dressing using a dry towel. Make sure the tire dressing is completely removed from the tire tread/grooves.
● Allow the tire dressing to dry as recommended by tire dressing manufacturer.
See also:
Air fresheners
Most air fresheners use a solvent that could affect the vehicle interior. If you use an air freshener, take the following precautions: . Hanging-type air fresheners can cause permanent discoloration w ...
Moonroof
The moonroof is made from a suede material. Clean the moonroof material as follows: CAUTION To help prevent damaging the moonroof while cleaning: ● Do not rub the material with a cloth ...
Seat belts with pretensioners (front seats)
WARNING ► The pretensioners cannot be reused after activation. They must be replaced together with the retractor and buckle as a unit. ► If the vehicle becomes involved in a c ...