How to use touch screen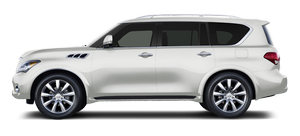 CAUTION
► The glass screen on the liquid crystal display may break if it is hit with a hard or sharp object. If the glass screen breaks, do not touch it. Doing so could result in an injury.
► To clean the display, use a soft, dry cloth. If additional cleaning is necessary, use a small amount of neutral detergent with a soft cloth. Never use a rough cloth, alcohol, benzine, thinner or any kind of solvent or paper towel with a chemical cleaning agent. They will scratch or deteriorate the panel.
► Do not splash any liquid such as water or car fragrance on the display. Contact with liquid will cause the system to malfunction.
To ensure safe driving, some functions cannot be operated while driving. The on-screen functions that are not available while driving will be "grayed out" or muted. Park the vehicle in a safe location and then operate the navigation system.

WARNING

► ALWAYS give your full attention to driving.
► Avoid using vehicle features that could distract you. If distracted, you could lose control of your vehicle and cause an accident.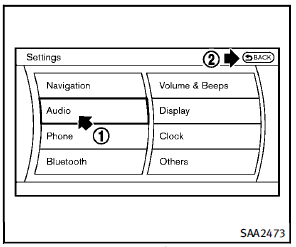 Example
Touch screen operation
With this system, the same operations as those for the INFINITI controller are possible using the touch screen operation.
Selecting the item:
Touch an item to select it. To select the "Audio" settings, touch the "Audio" area 1 on the screen. Touch the BACK2 button to return to the previous screen.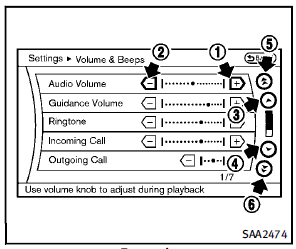 Example
Adjusting an item:
Touch the + 1 or − 2 button to adjust the settings. Touch the 3 or 4 button to move to the previous or next item. Touch the 5 or 6 button to move to the previous or next page.
Inputting characters:
Touch the letter or number 1 . There are some options available when inputting characters.
► Uppercase: Shows uppercase characters.
► Lowercase: Shows lowercase characters.
► Symbols: Shows symbols such as the question mark (?).
► Space: Inserts a space.
► Delete: Deletes the last character that has been input with one touch. Push and hold the button to delete all of the characters.
► OK: Completes character inputs.
Touch screen maintenance
If you clean the display screen, use a dry, soft cloth. If additional cleaning is necessary, use a small amount of neutral detergent with a soft cloth. Never spray the screen with water or detergent. Dampen the cloth first, and then wipe the screen.
See also:
Xenon headlights
WARNING HIGH VOLTAGE ● When xenon headlights are on, they produce a high voltage. To prevent an electric shock, never attempt to modify or disassemble. Always have your xenon headlights re ...
Family-friendly features
The JX is all about having your cake and eating it, too. Want family-friendly features in your car but don't want to sacrifice style or drivability? The JX mostly accomplishes both. The interior o ...
Command List
...