Camera aiding corner sonar function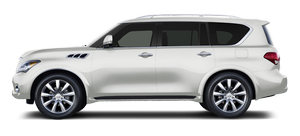 When the corner of the vehicle moves closer to the object while the Around View Monitor is displayed, an indicator is displayed and a tone is sounded by the corner sonar function to warn the driver. The color of the corner sonar indicator and the pattern of the tone vary according to the distance to the object. When the object is detected, the indicator (green) appears and blinks and the tone sounds intermittently. When the vehicle moves closer to the object, the color of the indicator turns yellow and the rate of the blinking and the volume of the tone increase. When the corner of the vehicle is very close to the object, the indicator stops blinking and turns red, and the tone sounds continuously. Keep the corner sonars (located on the front and rear bumper fascia) free from snow, ice and large accumulations of dirt. Do not clean the sonars with sharp objects. If the sonars are covered, the accuracy of the corner sonar function will be diminished.

WARNING

► The corner sonar function is not designed to prevent the object.
► The colors of the corner sonar indicator and the distance guide lines in the front/ rearview indicate different distances to the object.
► Inclement weather may affect the function of the corner sonar system; this may include reduced performance or a false activation.
► This function is designed as an aid to the driver in detecting large stationary objects to help avoid damaging the vehicle. The system will not detect small objects below the bumper, and may not detect objects close to the bumper or on the ground.
► If your vehicle sustains damage to the bumper fascia, leaving it misaligned or bent, the sensing zone may be altered causing inaccurate measurement of obstacles or false alarms.

CAUTION
Keep the interior of the vehicle as quiet as possible to hear the tone clearly.
See also:
120v outlet (if so equipped)
CAUTION ● The outlet and plug may be hot during or immediately after use. ● Use power outlets with the engine running to avoid discharging the vehicle battery. ● For devic ...
Opening trunk lid
1. Push the trunk open request switch A for more than 1 second. 2. The trunk will unlatch. An outside chime will sound four times. 3. Raise the trunk lid to open the trunk. Lockout protection: ...
How to adjust the screen
To adjust the Display ON/OFF, Brightness, Tint, Color, Contrast and Black Level of the RearView Monitor, press the SETTING button with the RearView Monitor on and select the "Display" key. Select one ...