Automatic climate control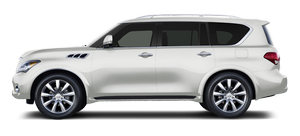 WARNING

► The air conditioner cooling function operates only when the engine is running.
► Do not leave children or adults who would normally require the support of others alone in your vehicle. Pets should not be left alone either. On hot, sunny days, temperatures in a closed vehicle could quickly become high enough to cause severe or possibly fatal injuries to people or animals.
► Do not use the recirculation mode for long periods as it may cause the interior air to become stale and the windows to fog up.
► Do not adjust the heating and air conditioning controls while driving so that full attention may be given to vehicle operation.
Start the engine and operate the automatic climate control system.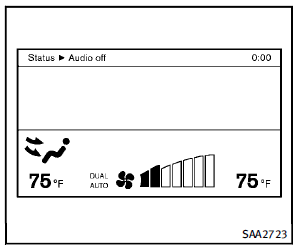 When the STATUS button is pushed, the automatic climate control status screen will appear. (See "How to use STATUS button" earlier in this section.)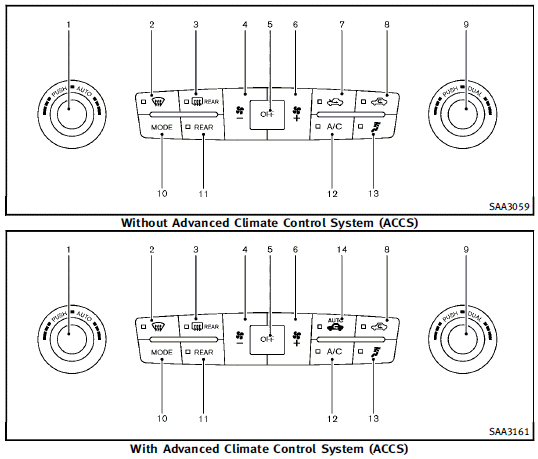 1. "AUTO" automatic climate control ON button/Temperature control dial (driver side)
2. "

" front defroster button
3. "
" rear window defroster button (See "Rear window and outside mirror defroster/windshield deicer switch" in the "2. Instruments and controls" section.)
4. "

" fan speed decrease button
5. "OFF" button for climate control system
6. "

" fan speed increase button
7. "

" intake air control button
8. "

" air recirculation button
9. "DUAL" zone control ON/OFF button/ Temperature control dial (passenger side)
10. "MODE" manual air flow control button
11. "REAR" control button
12. "A/C" air conditioner ON/OFF button
13. "

" upper vent button
14. "

" auto-recirculation button
See also:
Operating tips
► The images from a device that is connected to the rear auxiliary input jacks cannot be viewed on the front displays. ► It is not possible to switch the source to USB (if so equ ...
Zone variation change procedure
The difference between magnetic north and geographical north is known as variance. In some areas, this difference can sometimes be great enough to cause false compass readings. Follow these instructi ...
Vents
Adjust air flow direction for the driver's and passenger's side vents 1 , center vents 2 , and rear vents 3 by moving the vent slide and/or vent assemblies. Open or close the vents using the d ...