Phone selection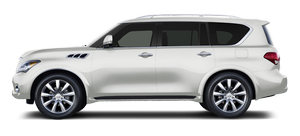 Up to 5 cellular phones can be registered to the system. To switch to connect another cellular phone, push PHONE button and select the "Connected Phones" key. The registered cellular phones are shown on the list. If you select a cellular phone that is different from the one currently connected, the newly selected phone will be connected to the system.
See also:
Flat towing
Towing your vehicle with all four wheels on the ground is sometimes called flat towing. This method is sometimes used when towing a vehicle behind a recreational vehicle, such as a motor home. CAUTIO ...
Vehicle Security System
The vehicle security system provides visual and audio alarm signals if someone opens the doors, hood, or lift gate when the system is armed. It is not, however, a motion detection type system ...
Styling & Quality
I won't waste much virtual ink describing the M's styling revisions; they're better shown in the thumbnails at right. Suffice it to say the M looks much like it did before, though certain elements ...