Rapid air pressure loss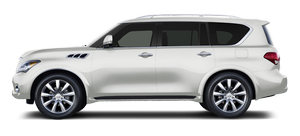 Rapid air pressure loss or a "blow-out" can occur if the tire is punctured or is damaged due to hitting a curb or pothole. Rapid air pressure loss can also be caused by driving on under-inflated tires. Rapid air pressure loss can affect the handling and stability of the vehicle, especially at highway speeds. Help prevent rapid air pressure loss by maintaining the correct air pressure and visually inspect the tires for wear and damage. See "Wheels and tires" in the "8. Maintenance and do-it-yourself" section of this manual. If a tire rapidly loses air pressure or "blows-out" while driving maintain control of the vehicle by following the procedure below. Please note that this procedure is only a general guide. The vehicle must be driven as appropriate based on the conditions of the vehicle, road and traffic.

WARNING
The following actions can increase the chance of losing control of the vehicle if there is a sudden loss of tire air pressure. Losing control of the vehicle may cause a collision and result in personal injury.
► The vehicle generally moves or pulls in the direction of the flat tire.
► Do not rapidly apply the brakes.
► Do not rapidly release the accelerator pedal.
► Do not rapidly turn the steering wheel. 1. Remain calm and do not overreact. 2. Maintain a firm grip on the steering wheel with both hands and try to hold a straight course. 3. When appropriate, slowly release the accelerator pedal to gradually slow the vehicle. 4. Gradually steer the vehicle to a safe location off the road and away from traffic if possible. 5. Lightly apply the brake pedal to gradually stop the vehicle. 6. Turn on the hazard warning flashers and either contact a roadside emergency service to change the tire or see "Changing a flat tire" in the "6. In case of emergency" section of this Owner's Manual.
See also:
Rain-sensing auto wiper system (if so equipped)
The rain-sensing auto wiper system can automatically turn on the wipers and adjust the wiper speed depending on the rainfall and the vehicle speed by using the rain sensor located on the upper part ...
Vanity mirror lights
Vanity mirror lights The light on the vanity mirror will turn on when the cover on the vanity mirror is opened. When the cover is closed, the light will turn off. The lights will also turn off af ...
Cleaning exterior
In order to maintain the appearance of your vehicle, it is important to take proper care of it. To protect the paint surface, wash your vehicle as soon as you can: . after a rainfall to prevent possi ...