Parking brake break-in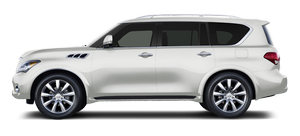 Break in the parking brake shoes whenever the stopping effect of the parking brake is weakened or whenever the parking brake shoes and/or drums/rotors are replaced, in order to assure the best braking performance. This procedure is described in the vehicle service manual and can be performed by an INFINITI retailer.
Using the brakes
Avoid resting your foot on the brake pedal while driving. This will cause overheating of the brakes, wearing out the brake and pads faster and reduce gas mileage. To help save the brakes and to prevent the brakes from overheating, reduce speed and downshift to a lower gear before going down a slope or long grade. Overheated brakes may reduce braking performance and could result in loss of vehicle control.

WARNING

► While driving on a slippery surface, be careful when braking, accelerating or downshifting. Abrupt braking or accelerating could cause the wheels to skid and result in an accident.
► If the engine is not running or is turned off while driving, the power assist for the brakes will not work. Braking will be harder.
See also:
SNOW mode switch (if so equipped)
SNOW mode switch (if so equipped) For driving or starting the vehicle on snowy roads or slippery areas, turn on the SNOW mode switch. The indicator light 1 on the switch will illuminate. When the ...
Cleaning
If your windshield is not clear after using the windshield washer or if a wiper blade chatters when running, wax or other material may be on the blade or windshield. Clean the outside of the w ...
Brake system
The brake system has two separate hydraulic circuits. If one circuit malfunctions, you will still have braking at 2 wheels. ...