RearView monitor (if so equipped)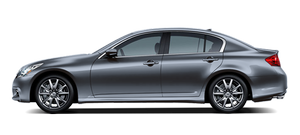 When the selector/shift lever is shifted into the "R" (Reverse) position, the monitor display shows view to the rear of the vehicle.
The system is designed as an aid to the driver in detecting large stationary objects to help avoid damaging the vehicle. The system will not detect small objects below the bumper and may not detect objects close to the bumper or on the ground.
WARNING
• The rearview monitor is a convenience but it is not a substitute for proper vehicle operation because it has areas where objects cannot be viewed. Always look out the windows and check mirrors to be sure that it is safe to move before operating the vehicle. Always operate the vehicle slowly.
• Objects viewed in the RearView Monitor differ from actual distance because a wide-angle lens is used. Objects in the RearView Monitor will appear visually opposite like ones viewed in the inside and outside mirrors.
• Make sure that the trunk is securely closed when backing up.
• Underneath the bumper and the corner areas of the bumper cannot be viewed on the rearview monitor because of its monitoring range limitation.
• Do not put anything on the rearview camera. The rearview camera is installed above the license plate.
• When washing the vehicle with highpressure water, be sure not to spray it around the camera. Otherwise, water may enter the camera unit causing water condensation on the lens, a malfunction, fire or an electric shock.
• Do not strike the camera. It is a precision instrument. Otherwise, it may malfunction or cause damage resulting in a fire or an electric shock.
CAUTION
There is a plastic cover over the camera. Do not scratch the cover when cleaning dirt or snow from the cover.
See also:
Infants
Infants up to at least 1 year old should be placed in a rear-facing child restraint. INFINITI recommends that infants be placed in child restraints that comply with Federal Motor Vehicle Safet ...
Standard mode
Recommended for normal driving. Turn the drive mode select switch to the center position. "STANDARD" appears in the vehicle information display for 2 seconds. ...
Others settings (models with navigation system)
Others settings (models with navigation system) The Others settings display will appear when pushing the SETTING button and selecting the "Others" key. The following items are available:• Comfort• ...