Tire equipment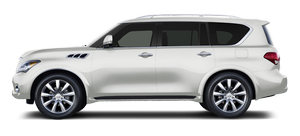 SUMMER tires have a tread designed to provide superior performance on dry pavement. However, the performance of these tires will be substantially reduced in snowy and icy conditions. If you operate your vehicle on snowy or icy roads, INFINITI recommends the use of MUD & SNOW or ALL SEASON tires on all four wheels. Consult an INFINITI retailer for the tire type, size, speed rating and availability information. For additional traction on icy roads, studded tires may be used. However, some U.S. states and Canadian provinces prohibit their use. Check local, state and provincial laws before installing studded tires.
Skid and traction capabilities of studded snow tires, on wet or dry surfaces, may be poorer than that of non-studded snow tires.
Tire chains may be used. For details, see "Tire chains" in the "8. Maintenance and do-it-yourself" section of this manual. For four-wheel drive If you install snow tires, they must also be the same size, brand, construction and tread pattern on all four wheels.
See also:
Brake precautions
Vacuum assisted brakes The brake booster aids braking by using engine vacuum. If the engine stops, you can stop the vehicle by depressing the brake pedal. However, greater foot pressure on the brake ...
EX35 in the Market
In a segment dominated by the RX, the EX is still a bit player in terms of sales, on par with the likes of the RDX, XC60 and once-venerable X3. It might be easy to cast off the Infiniti as an also ...
Opening the fuel-filler door
To open the fuel-filler door, unlock the fuelfiller door by using one of the following operations, then push the right side of the door (Sedan) or push the left side of the door (Coupe). • Push the d ...