Cleaning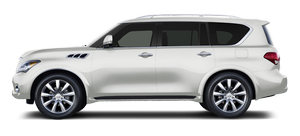 If your windshield is not clear after using the windshield washer or if a wiper blade chatters when running, wax or other material may be on the blade or windshield. Clean the outside of the windshield with a washer solution or a mild detergent. Your windshield is clean if beads do not form when rinsing with clear water. Clean each blade by wiping it with a cloth soaked in a washer solution or a mild detergent. Then rinse the blade with clear water. If your windshield is still not clear after cleaning the blades and using the wiper, replace the blades. Worn windshield wiper blades can damage the windshield and impair driver vision.
See also:
Xenon headlights
WARNING HIGH VOLTAGEХ When xenon headlights are on, they produce a high voltage. To prevent an electric shock, never attempt to modify or disassemble. Always have your xenon headlights replaced at a ...
Touch screen operation
With this system, the same operations as those for the INFINITI controller are possible using the touch screen operation. Selecting the item: Touch an item to select it. To select the УAudioФ sett ...
Stowing golf bags (Coupe)
Stowing golf bags (Coupe) Normally, two standard golf bags can be stowed in the trunk. Insert the top of the golf bag into left side of the trunk room 1 then put the bag forward 2 . Insert the to ...