Cleaning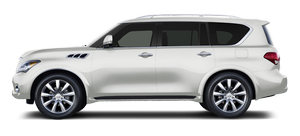 If your windshield is not clear after using the windshield washer or if a wiper blade chatters when running, wax or other material may be on the blade or windshield. Clean the outside of the windshield with a washer solution or a mild detergent. Your windshield is clean if beads do not form when rinsing with clear water. Clean each blade by wiping it with a cloth soaked in a washer solution or a mild detergent. Then rinse the blade with clear water. If your windshield is still not clear after cleaning the blades and using the wiper, replace the blades. Worn windshield wiper blades can damage the windshield and impair driver vision.
See also:
Remote keyless entry system
WARNING The Intelligent Key transmits radio waves when the buttons are pushed. The FAA advises that the radio waves may affect aircraft navigation and communication systems.Do not operate the Intelli ...
Universal Serial Bus (USB) memory
This system supports various USB memory sticks, USB hard drives and iPod players. There are some USB devices which may not be supported with this system. ● Make sure that the USB device is conn ...
Read first — then drive safely
Before driving your vehicle, read your Owner's Manual carefully. This will ensure familiarity with controls and maintenance requirements, assisting you in the safe operation of your vehicle. ...