Cleaning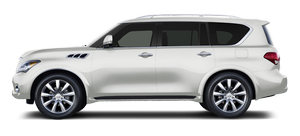 If your windshield is not clear after using the windshield washer or if a wiper blade chatters when running, wax or other material may be on the blade or windshield. Clean the outside of the windshield with a washer solution or a mild detergent. Your windshield is clean if beads do not form when rinsing with clear water. Clean each blade by wiping it with a cloth soaked in a washer solution or a mild detergent. Then rinse the blade with clear water. If your windshield is still not clear after cleaning the blades and using the wiper, replace the blades. Worn windshield wiper blades can damage the windshield and impair driver vision.
See also:
Tire and loading information label
The cold tire pressure is shown on the Tire and Loading Information label affixed to the pillar as illustrated. ...
Infiniti Drive
The M's throttle sensitivity and transmission mapping are fine tuned according to which of four driver-selectable modes is engaged via a switch positioned behind the gear lever: Standard, Eco, Spo ...
When traveling or registering your vehicle inanother country
If you plan to travel in another country, you should first find out if the fuel available is suitable for your vehicle's engine. Using fuel with too low an octane rating may cause engine dam ...