Cleaning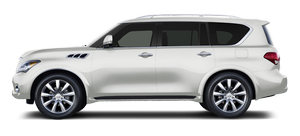 If your windshield is not clear after using the windshield washer or if a wiper blade chatters when running, wax or other material may be on the blade or windshield. Clean the outside of the windshield with a washer solution or a mild detergent. Your windshield is clean if beads do not form when rinsing with clear water. Clean each blade by wiping it with a cloth soaked in a washer solution or a mild detergent. Then rinse the blade with clear water. If your windshield is still not clear after cleaning the blades and using the wiper, replace the blades. Worn windshield wiper blades can damage the windshield and impair driver vision.
See also:
Inside mirror
Inside mirror Adjust the height and the angle of the inside mirror to the desired position. ...
Intelligent Key system
WARNING • Radio waves could adversely affect electric medical equipment. Those who use a pacemaker should contact the electric medical equipment manufacturer for the possible influences before use.• ...
Playing Digital Versatile Disc (DVD)
DISC·AUX button Park the vehicle in a safe location for the front seat occupants to operate the DVD player while watching the images. Insert a DVD into the CD/DVD slot with the labeled side ...