Brake booster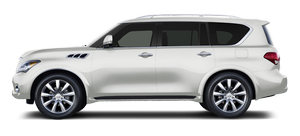 Check the brake booster function as follows: 1. With the engine off, depress and release the foot brake pedal more than 20 times. When the foot brake pedal movement (distance of travel) remains the same from one pedal application to the next, continue on to the next step. 2. While depressing the foot brake pedal, start the engine. 3. With the foot brake pedal depressed, stop the engine. Keep the pedal depressed for about 30 seconds. 4. Run the engine for 1 minute without depressing the foot brake pedal, then turn it off. Depress the foot brake pedal several times. The pedal travel distance will decrease gradually with each depression as the hydraulic pressure decreases. If the brakes do not operate properly, have the brakes checked by an INFINITI retailer.
See also:
Engine coolant temperature gauge
Engine coolant temperature gauge The gauge indicates the engine coolant temperature. The engine coolant temperature is within the normal range when the gauge needle points within the zone 1 show ...
VQ37VHR engine
Use unleaded premium gasoline with an octane rating of at least 91 AKI (Anti-Knock Index) number (Research octane number 96). If premium gasoline is not available, unleaded regular gasoline with an o ...
Backing up behind a projecting object
Backing up behind a projecting object The position C is shown further than the position B in the display. However, the position C is actually at the same distance as the position A . The vehicle ...