Brake booster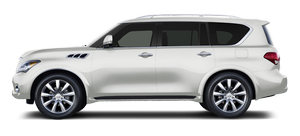 Check the brake booster function as follows: 1. With the engine off, depress and release the foot brake pedal more than 20 times. When the foot brake pedal movement (distance of travel) remains the same from one pedal application to the next, continue on to the next step. 2. While depressing the foot brake pedal, start the engine. 3. With the foot brake pedal depressed, stop the engine. Keep the pedal depressed for about 30 seconds. 4. Run the engine for 1 minute without depressing the foot brake pedal, then turn it off. Depress the foot brake pedal several times. The pedal travel distance will decrease gradually with each depression as the hydraulic pressure decreases. If the brakes do not operate properly, have the brakes checked by an INFINITI retailer.
See also:
Wheels and tires
If you have a flat tire, see "Flat tire". In case of emergency" section. ...
Heated rear seats (if so equipped)
WARNING Do not use or allow occupants to use the seat heater if you or the occupants cannot monitor elevated seat temperatures or have an inability to feel pain in body parts that contact the seat. ...
Hood
Hood 1. Pull the hood lock release handle 1 located below the instrument panel; the hood will then spring up slightly. 2. Pull the lever 2 up at the front of the hood with your fingertips and rais ...