Brake booster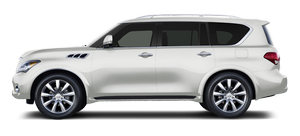 Check the brake booster function as follows: 1. With the engine off, depress and release the foot brake pedal more than 20 times. When the foot brake pedal movement (distance of travel) remains the same from one pedal application to the next, continue on to the next step. 2. While depressing the foot brake pedal, start the engine. 3. With the foot brake pedal depressed, stop the engine. Keep the pedal depressed for about 30 seconds. 4. Run the engine for 1 minute without depressing the foot brake pedal, then turn it off. Depress the foot brake pedal several times. The pedal travel distance will decrease gradually with each depression as the hydraulic pressure decreases. If the brakes do not operate properly, have the brakes checked by an INFINITI retailer.
See also:
Brake pad wear warning
The disc brake pads have audible wear warnings. When a brake pad requires replacement, it will make a high pitched scraping sound when the vehicle is in motion. This scraping sound will first occur on ...
Engine compartment
CAUTION Never use a fuse of a higher or lower amperage rating than that specified on the fuse box cover. This could damage the electrical system or cause a fire. If any electrical equipme ...
How to read displayed lines
How to read displayed lines Guiding lines which indicate the vehicle width and distances to objects with reference to the bumper line A are displayed on the monitor. Distance guide lines: Indic ...