Precautions on booster seats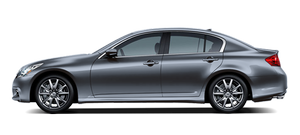 WARNING
If a booster seat and seat belt are not used properly, the risk of a child being injured in a sudden stop or collision greatly increases:
• Make sure the shoulder portion of the belt is away from the child's face and neck and the lap portion of the belt does not cross the stomach.
• Make sure the shoulder belt is not behind the child or under the child's arm.
• A booster seat must only be installed in a seating position that has a lap/shoulder belt.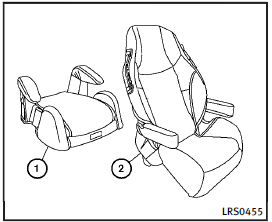 Booster seats of various sizes are offered by several manufacturers. When selecting any booster seat, keep the following points in mind: . Choose only a booster seat with a label certifying that it complies with Federal Motor Vehicle Safety Standard 213 or Canadian Motor Vehicle Safety Standard 213.
• Check the booster seat in your vehicle to be sure it is compatible with the vehicle's seat and seat belt system.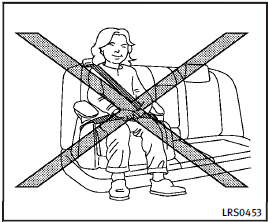 • Make sure the child's head will be properly supported by the booster seat or vehicle seat. The seatback must be at or above the center of the child's ears.
For example, if a low back booster seat 1 is chosen, the vehicle seatback must be at or above the center of the child's ears. If the seatback is lower than the center of the child's ears, a high back booster seat 2 should be used.
• If the booster seat is compatible with your vehicle, place your child in the booster seat and check the various adjustments to be sure the booster seat is compatible with your child.
Always follow all recommended procedures.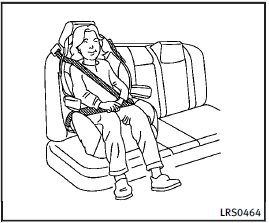 All U.S. states and Canadian provinces or territories require that infants and small children be restrained in an approved child restraint at all times while the vehicle is being operated.
The instructions in this section apply to booster seat installation in the rear seats or the front passenger seat.
See also:
iPod * player operation
Connecting iPod To connect an iPod to the vehicle so that the iPod can be controlled with the audio system controls and display screen, use the USB jack 1 located in the center console. Connect th ...
Handset phonebook
Many phones will support an automatic download of the cellular phone's phonebook. Since this method allows for up to 1000 numbers to be stored and entries are automatically assigned voice tags by the ...
Safety Shield
For the 2011-model year M Line, Infiniti's 360-degree "bubble of protection" around the car known as the Safety Shield becomes more complete than ever. New features such as Blind Spot In ...