Seat belts with pretensioners (front seats)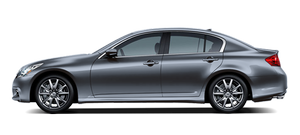 WARNING
• The pretensioners cannot be reused after activation. They must be replaced together with the retractor and buckle as a unit.
• If the vehicle becomes involved in a collision but a pretensioner is not activated, be sure to have the pretensioner system checked and, if necessary, replaced by an INFINITI retailer.
• No unauthorized changes should be made to any components or wiring of the pretensioners. This is to prevent damage to or accidental activation of the pretensioner system. Tampering with the pretensioner system may result in serious personal injury.
• Work around and on the pretensioners should be done by an INFINITI retailer.
Installation of electrical equipment should also be done by an INFINITI retailer. Unauthorized electrical test equipment and probing devices should not be used on the pretensioner system.
• If you need to dispose of the pretensioner or scrap the vehicle, contact an INFINITI retailer. Correct pretensioner disposal procedures are set forth in the appropriate INFINITI Service Manual.
Incorrect disposal procedures could cause personal injury.
The pretensioner system may activate with the supplemental air bag system in certain types of collisions. Working with the seat belt retractor, it helps tighten the seat belt when the vehicle becomes involved in certain types of collisions, helping to restrain front seat occupants.
The pretensioner is encased with the seat belt retractor. These seat belts are used the same way as conventional seat belts.
When a pretensioner seat belt activates, smoke is released and a loud noise may be heard. The smoke is not harmful, and it does not indicate a fire. Care should be taken not to inhale it as it may cause irritation and choking. Those with a history of a breathing condition should get fresh air promptly.
After pretensioner activation, load limiters allow the seat belt to release webbing (if necessary) to reduce forces against the chest.
The supplemental air bag warning light
is used to indicate malfunctions in the pretensioner system. (See "Supplemental air bag warning light" for more details.) If the supplemental air bag warning light indicates there is a malfunction, have the system checked by an INFINITI retailer.
When selling your vehicle, we request that you inform the buyer about the seat belt pretensioners and guide the buyer to the appropriate sections in this Owner's Manual.
See also:
Booster seats
Precautions on booster seats WARNING If a booster seat and seat belt are not used properly, the risk of a child being injured in a sudden stop or collision greatly increases: ► Make su ...
Vehicle information display
1. Push the INFO button on the control panel. 2. Select an item from the INFO menu. 3. After viewing or adjusting the information on the following screens, push the BACK button to return to the INFO ...
Connecting procedure
1. Push the button, and select the "Connect Phone" key. 2. When a PIN code appears on the screen, operate the compatible Bluetooth ® cellular phone to enter the PIN code. The connect ...