Rain-sensing auto wiper system (if so equipped)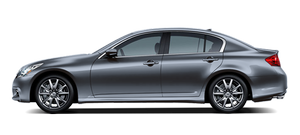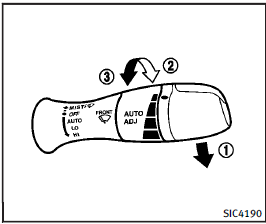 Rain-sensing auto wiper system (if so equipped)
The rain-sensing auto wiper system can automatically turn on the wipers and adjust the wiper speed depending on the rainfall and the vehicle speed by using the rain sensor located on the upper part of the windshield.
To set the rain-sensing auto wiper system, push the lever down to the AUTO position 1 . The wiper will sweep once while the ignition switch is in the ON position.
The rain sensor sensitivity level can be adjusted by turning the knob toward the front 2 (High) or toward the rear 3 (Low).
• High — High sensitive operation
• Low — Low sensitive operation
To turn the rain-sensing auto wiper system off, push up the lever to the OFF position, or pull down the lever to the LO or HI position.
CAUTION
Do not touch the rain sensor and around it when the wiper switch is in the AUTO position and the ignition switch is in the ON position. The wipers may operate unexpectedly and cause to an injury or a wiper damage.
• The rain-sensing auto wipers are intended for use during rain. If the switch is left in the AUTO position, the wipers may operate unexpectedly when dirt, fingerprints, oil film or insects are stuck on or around the sensor. The wipers may also operate when exhaust gas or moisture affect the rain sensor.
• The rain-sensing auto wipers may not operate if rain does not hit the rain sensor even if it is raining.
• When the windshield glass is coated with water repellent, the speed of the rain-sensing auto wipers may be higher even though the amount of the rainfall is small.
• Be sure to turn off the rain-sensing auto wiper system when you use a car wash.
• Using genuine wiper blades is recommended for proper operation of the rain-sensing auto wiper system. (See "Windshield wiper blades" for wiper blade replacement.)
See also:
BSW/Blind Spot InterventionTM driving situations
Another vehicle approaching from behind The BSW/Blind Spot InterventionTM indicator light illuminates if a vehicle enters the detection zone from behind in an adjacent lane. However, if t ...
Windshield wiper and washer switch
WARNING In freezing temperatures the washer solution may freeze on the windshield and obscure your vision which may lead to an accident. Warm windshield with the defroster before you wash the windshi ...
Cleaning the seat tracks
CAUTION Periodically clean the seat tracks to prevent reduction of ability to move the seats. Clean periodically with a high-powered vacuum cleaner. Dirt and debris may reduce the ability to adjus ...