Using panic alarm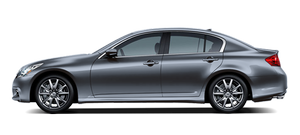 If you are near your vehicle and feel threatened, you may activate the alarm to call attention as follows: 1. Push the PANIC

button 4 on the key for more than 1 second.
2. The theft warning alarm and headlights will stay on for 25 seconds.
3. The panic alarm stops when: . It has run for 25 seconds, or
• Any of the buttons on the Intelligent Key are pushed. (Note: Panic button should be pushed for more than 1 second.)
See also:
How to change the set distance to thevehicle ahead
The distance to the vehicle ahead can be selected at any time depending on the traffic conditions. Each time the distance switch A is pushed, the set distance will change to long, average, short ...
Exterior
The QX looks a little like a guy I saw at the airport the other day who was trying to squeeze in a few too many trends. (Really? Black, skinny emo jeans, a handlebar mustache and a Mohawk? Choose on ...
Removing spots
Remove tar and oil spots, industrial dust, insects, and tree sap as quickly as possible from the paint surface to avoid lasting damage or staining. Special cleaning products are available at an INFINI ...