Power outlet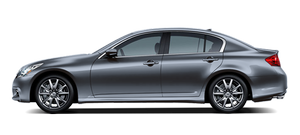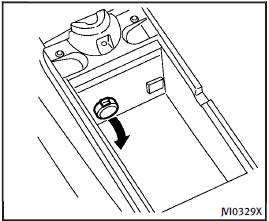 Automatic transmission models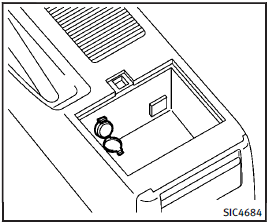 Manual transmission models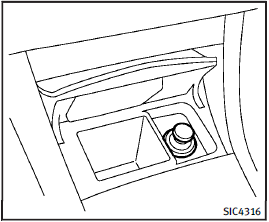 Automatic transmission models
The power outlet is located in the center console and storage box (if so equipped).
CAUTION
• The outlet and plug may be hot during or immediately after use.
• Do not use with accessories that exceed a 12 volt, 120W (10A) power draw. Do not use double adapters or more than one electrical accessory.
• Use power outlet with the engine running to avoid discharging the vehicle battery.
• Avoid using power outlet when the air conditioner, headlights or rear window defroster is on.
• This power outlet is not designed for use with a cigarette lighter unit.
• Push the plug in as far as it will go. If good contact is not made, the plug may overheat or the internal temperature fuse may blow.
• Before inserting or disconnecting a plug, be sure the electrical accessory being used is turned OFF.
• When not in use, be sure to close the cap. Do not allow water to contact the outlet.
See also:
iPod® PLAYER OPERATION (if so equipped)
Connecting iPod® Open the console lid and connect the iPod® cable to the USB connector. If compatible, the battery of the iPod® is charged while the connection to the vehicle. Depending on the versi ...
Programming HomeLink®
To program your HomeLink® Universal Transceiver to operate a garage door, gate, or entry door opener, home or office lighting, you need to be at the same location as the device. Note: Garage d ...
Automatic anti-glare rearview mirror (if so equipped)
The inside mirror is designed so that it automatically dims according to the intensity of the headlights of the vehicle following you. The automatic anti-glare feature operates only when the ignitio ...