Confirming memory storage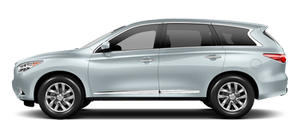 ● Place the ignition switch in the ON position and push the SET switch. If the main memory has not been stored, the indicator light will come on for approximately 0.5 seconds.
When the memory has stored the position, the indicator light will stay on for approximately 5 seconds.
● If the battery cable is disconnected, or if the fuse opens, the memory storage function will be canceled and must be restarted before a stored memory position can be set again.
Drive the vehicle over 25 MPH (40 km/h) to restart the memory storage function. You can also restart the memory storage function using the following procedure.
1. Connect the battery cable or replace the fuse.
2. Open and close the driver's door more than 2 times with the ignition switch in the LOCK position.
Once the memory storage function has been restarted, you can store a memory position.
See "Memory storage function" in this section.
See also:
Underbody
In areas where road salt is used in winter, it is necessary to clean the underbody regularly in order to prevent dirt and salt from building up and causing the acceleration of corrosion on the underbo ...
Readiness for Inspection/Maintenance (I/M) test
A vehicle equipped with Four-Wheel Drive (4WD) should never be tested using a two wheel dynamometer (such as the dynamometers used by some states for emissions testing), or similar equipment. ...
Appearance Updates
Following a face-lift for last year's sedan, the coupe and convertible get some rhinoplasty themselves for 2011. See the photos at right to compare, or click here for specs and features. Stretchin ...