Confirming memory storage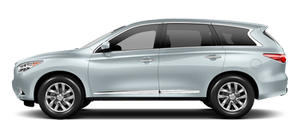 ● Place the ignition switch in the ON position and push the SET switch. If the main memory has not been stored, the indicator light will come on for approximately 0.5 seconds.
When the memory has stored the position, the indicator light will stay on for approximately 5 seconds.
● If the battery cable is disconnected, or if the fuse opens, the memory storage function will be canceled and must be restarted before a stored memory position can be set again.
Drive the vehicle over 25 MPH (40 km/h) to restart the memory storage function. You can also restart the memory storage function using the following procedure.
1. Connect the battery cable or replace the fuse.
2. Open and close the driver's door more than 2 times with the ignition switch in the LOCK position.
Once the memory storage function has been restarted, you can store a memory position.
See "Memory storage function" in this section.
See also:
Automatic moonroof
The moonroof only operates when the ignition switch is in the ON position. The automatic moonroof is operational for about 45 seconds, even if the ignition switch is pushed to the OFF position. If th ...
Lift gate release lever
If the lift gate cannot be opened with the door lock switch due to a discharged battery, follow these steps. 1. Remove the cover A inside of the lift gate using a suitable tool. 2. Move th ...
System operation
The automatic drive positioner system will not work or will stop operating under the following conditions: . When the vehicle speed is above 4 MPH (7 km/h). • When the adjusting switch for the driver ...