Remote keyless entry system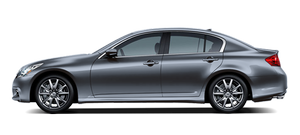 WARNING
The Intelligent Key transmits radio waves when the buttons are pushed. The FAA advises that the radio waves may affect aircraft navigation and communication systems.
Do not operate the Intelligent Key while on an airplane. Make sure the buttons are not operated unintentionally when the unit is stored during a flight.
It is possible to lock/unlock all doors, fuelfiller door, activate the panic alarm and open the windows by pushing the buttons on the Intelligent Key from outside the vehicle.
Before locking the doors, make sure the Intelligent Key is not left in the vehicle.
The LOCK/UNLOCK button on the Intelligent Key can operate at a distance of approximately 33 ft (10 m) from the vehicle. (The effective distance depends upon the conditions around the vehicle.) As many as 4 Intelligent Keys can be used with one vehicle. For information concerning the purchase and use of additional Intelligent Keys, contact an INFINITI retailer.
The lock and unlock buttons on the Intelligent Key will not operate when: . the distance between the Intelligent Key and the vehicle is over 33 ft (10 m).
• the Intelligent Key battery is discharged.
After locking with the remote keyless entry function, pull the door handle to make sure the doors are securely locked.
The LOCK/UNLOCK operating range varies depending on the environment. To securely operate the lock and unlock buttons, approach the vehicle to about 3 ft (1 m) from the door.
See also:
It handles better.
Tucked into the IPL G Coupe's wheel wells are large 19-inch aluminum alloy wheels shod in grippy 225-width tires up front and 245-width tires out back. Twenty-percent stiffer springs suspend the v ...
Programming HomeLink® for Canadian customers
Prior to 1992, D.O.C. regulations required hand-held transmitters to stop transmitting after 2 seconds. To program your handheld transmitter to HomeLink®, continue to push and hold the HomeLink® butto ...
F.M.V.S.S./C.M.V.S.S. certification label
The Federal/Canadian Motor Vehicle Safety Standards (F.M.V.S.S./C.M.V.S.S.) certification label is affixed as shown. This label contains valuable vehicle information, such as: Gross Vehicle ...