Opening windows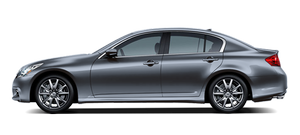 The UNLOCK

button operation also allows you to open the window that is equipped with the automatic open/close function. (See "Power windows").
To open the window, push the door UNLOCK

button 2 on the Intelligent Key for about 3 seconds after the door is unlocked.
To stop opening, release the UNLOCK

button.
If the window open operation is stopped in mid-operation while pushing the UNLOCK

button, release and push the UNLOCK

button again until the window opens completely.
Window cannot be closed using the Intelligent Key.
The door window can also be operated by turning the mechanical key in a door lock.
(See "Doors".)
See also:
G37 IPL, G25
The high-performance G37 IPL coupe and convertible, both available with a manual or automatic, are new this year. Our brief drive left us nonplussed. On the track, there was little to distinguish ...
Manual transmission
• Always tow with the manual transmission in Neutral. • Your vehicle speed should never exceed 70 MPH (112 km/h) when flat towing your vehicle. • After towing 500 miles, start and idle the engine wi ...
Important information about this manual
You will see various symbols in this manual. They are used in the following ways: WARNING This is used to indicate the presence of a hazard that could cause death or serious personal injur ...